Coach Profiles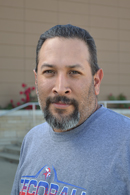 Anthony Sisneros of Calmar, Iowa, is the head coach for the Northeast Iowa Community College sports shooting team. He is currently an assistant coach for the South Winneshiek Trap Team and vice president of the South Winnesheik Trap Team board. He is employed by Calmar Manufacturing as a CAD engineer.
Sisneros holds a DNR Basic Shotgun Coaches Certification and has earned an associate's degree in computer electronics from High-Tech Institute in Phoenix, Ariz., and a computer applications specialist diploma from MTI College in Sacramento, Calif.
He and his wife Amanda have three children, Carina, Dominic and Mikayla.