Sports Shooting Team Competes in First Meet of Season at Blackhawk Invitational
September 20, 2017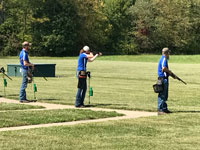 CALMAR—Northeast Iowa Community College's (NICC) Sports Shooting team competed in its first meet of the season at the Southeastern Community College Blackhawk Invitational on Sept. 17 in Montrose.
NICC athletes participating in the meet included: Leo Balk, of Waucoma; Eric Blum, of Zwingle; Melody Gossman, of Rose Creek, Minn.; Tommy Pecinovsky, of Calmar; Adam Reinertson, of Fayette; Christian Schwickerath, of New Hampton; and Kyle Townsend, of Dubuque. All are first-year team members, with the exception of returning athletes Leo Balk and Pecinovsky.
Southeastern Community College Blackhawk Invitational results:


The NICC Blue Squad placed 11th
Female individual: Melody Gossman, 10th place female, 89 out of 100 clay pigeons hit. Top female score was 95
Male individual: Christian Schwickerath, tied for 7th place male, 96 out of 100. The top score male score was 99


Adam Reinertson, student athlete, viewed the season opener as an opportunity to adjust and improve his shooting skills as the year progresses. "It was great to shoot at the meet to see exactly what areas I need to improve on in practice; I'm ready to get to it," he said.
Anthony Sisneros, NICC Sports Shooting team head coach was pleased with the athletes' performances, especially at the first meet and with many first-year team members.
"Great shooting this past weekend for our first meet of the season," Sisneros expressed. "I'm very impressed with the athletes' efforts and excited to see their progress."
The team visits Ottumwa next for the Indian Hills Community College Invitational on Sept. 29.