First-year NICC Sports Shooting Team Athletes Finish Strong at Indian Hills Invitational
October 6, 2017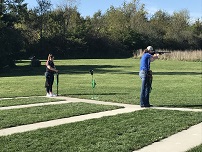 CALMAR—Northeast Iowa Community College's (NICC) Sports Shooting team competed at the Indian Hills Invitational on Sept. 30 in Ottumwa, with strong performances from two first-year athletes.
NICC athletes and their finishing scores included: Leo Balk, of Waucoma (88); Melody Gossman, of Rose Creek, Minn. (94); Tommy Pecinovsky, of Calmar (86); Adam Reinertson, of Fayette (79); Christian Schwickerath, of New Hampton (96); Kyle Townsend, of Dubuque (64); and Hannah Evert, of Mazomanie, Wis. (66).
Indian Hills Invitational results:
The NICC Blue Squad placed 10th
Female individual: Melody Gossman, 4th place female, 94 out of 100 clay pigeons hit. Gossman is a first-year student athlete. Top female score was 96.|


Male individual: Christian Schwickerath, tied for 10th place male, 96 out of 100 score. The top score for the meet was 99. Schwickerath is a first-year student athlete.
Gossman enjoys the competition and the opportunity to complete with her fellow athletes, saying, "I always find something to smile about on the line, and sometimes I even laugh at myself. That's what makes it fun. It was so fun looking over my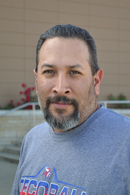 shoulder and seeing my team watching me (at the tie-breaker) shoot off. It was a great experience and a beautiful day to just shoot."
Anthony Sisneros, NICC Sports Shooting team head coach, observed good camaraderie between the athletes who continually look for ways to step up competitively.
"It's exciting to watch the athletes improve and become more consistent with their shooting. With each practice and event, we are getting closer as a team and more competitive with the other teams in our conference," Coach Sisneros expressed.
For Hanna Evert, the Indian Hills Invitational was an opportunity to trap shoot for the first time. "Today was the first trap shoot I've ever participated in. I placed 24th out of 24 (females), but I was more than happy with my score and the way I shot. Overall it was a great day and I can't wait for the next tournament," Evert said.
The team visits Afton next for the Southwestern Community College Invitational on Oct. 7.