Windy Conditions Factor into Pheasants Forever Meet, as Fall Season Begins to Wrap up
October 27, 2017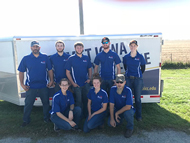 CEDAR RAPIDS—Windy conditions were again a factor for the Northeast Iowa Community College Sports Shooting team competing at the Pheasants Forever Collegiate Meet in Cedar Rapids on Oct. 21.

Second-year student athlete Tommy Pecinovsky, of Calmar, led the team with a score of 88. Other results included: Carina Sisneros, of Calmar (85); Leo Balk, of Waucoma (83); Melody Gossman, of Rose Creek, Minn. (83); Adam Reinertson, of Fayette (80); Kyle Townsend, of Dubuque (81); and Hannah Evert, of Spillville (71).
Pecinovsky's 88 was a personal best for the season. The returning student at NICC contended with windy conditions during the meet, saying, "The wind was at our backs again, sometimes strong. After we shot our first 50, though, it slowed down and we started shooting better; good enough that I got my first 25 straight!"
Although Gossman found that windy conditions tended to hold sway over nearly every shot, the picturesque fall day was one to remember. "It was a beautiful day to shoot; leaves were changing and it was gorgeous," recalled Gossman.
The team's final fall season meet is Saturday, Oct. 28, at Ellsworth College Panthers Invitational in Ackley.