Sports Shooting Team Battles Rough Weather at Southwestern Community College Invitational
October 12, 2017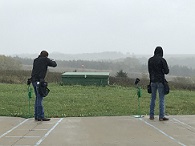 CALMAR—The Northeast Iowa Community College Sports Shooting team competed at the Southwestern Community College Invitational on Oct. 7 in Afton, contending with rough winds and rain throughout the event.
First-year student athlete Christian Schwickerath, of New Hampton, tied for 8th place male with a 95 out of 100, in a meet that saw 99 as the top finish. Other results included: Tommy Pecinovsky, of Calmar (87); Adam Reinertson, of Fayette (71); and Kyle Townsend, of Dubuque (78).
Tommy Pecinovsky, second-year athlete, observed how the elements changed the performance of shots in Afton, saying, "The range was beautiful as always, although with the wind and rain it added a little challenge to the meet. Because of the wind, sometimes you would get a bird that would all of a sudden drop early."
Anthony Sisneros, NICC Sports Shooting team head coach, believes that the important take-aways from weather conditions are found in small adjustments his athletes learn to make.
"The weather posed a challenge for the athletes at this meet, but they still shot consistently and improved overall," said Sisneros.
The team visits Cedar Rapids on Saturday, Oct. 21, to compete in the Pheasants Forever Collegiate Meet.