NICC Alumni Shining Stars: Amy Thompson ('13) and Josh Thompson ('17) of Decorah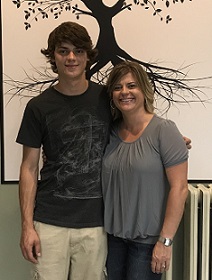 DECORAH-Northeast Iowa Community College's (NICC) place in the Calmar area is forever connected to the thousands of students of all ages who enrolled, completed a degree and started brighter career futures. NICC alumni have made a powerful impact on local communities and are often connected to one another as family; their success stories honor the College and its mission and purpose.
In this spirit, NICC is honoring "Alumni Shining Stars" during the year to celebrate standout graduates who have transformed their lives and families through their example. The June 2017 Alumni Shining Stars are Amy Thompson, a 2013 graduate of the Cosmetology program, and her son Josh Thompson, who graduated from the Electrician program in May.
After graduating from North Winneshiek High School, Amy's career goals centered on cosmetology, and she enrolled in 1996 at La James College of Hairstyling in Mason City, before learning of her pregnancy with her oldest son, Josh.
"I decided to put my career on hold and start a family, and I needed to stay at home in Decorah," she recalled, a native of Ft. Collins, Colo., who moved to Iowa in 1985. "I have always loved doing hair and the hands-on work. I enjoy talking and working with people so much – it's really rewarding to me. I always wanted to attend college to get my degree and cosmetology license."
Amy continued to nurture her career dream while raising Josh and, at the age of 34, returned to NICC to enroll in the Associate of Applied Science-Cosmetology degree program. She graduated in 2013.
"I was a little nervous at first. When you walk into a classroom and there is a room full of 19-year-olds, it really makes you conscious of your age," she laughed. "Everyone was very supportive, and my younger peers really taught me things. I'm so glad I completed my degree at Northeast Iowa Community College and that it worked out as well as it did for me and my family."
Smaller class sizes and support from faculty members make NICC stand out from other schools, Josh Thompson added. After earning an Electrician – Commercial/Residential degree this spring, he was hired by Perry Novak Electric in Decorah within a week of graduation.
"Northeast Iowa Community College is affordable, and I liked the idea of a smaller campus. I have always been interested in electrical work. I'm a hands-on person, and the College's teachers are closely involved in students and their learning," Josh explained.
Amy worked as a stylist for several years after graduation at The Salon in Decorah and then seized on the opportunity to lease Dennis Smock's barbershop upon his retirement in 2016. Thompson remodeled the entire location, working night and day, with the help of her mother Barb Esler, fiancé Eric Burg, family, friends and local tradespeople. She opened her own salon, Rootz, in February 2017.
"It has always been my dream since high school to own my salon. I'm really enjoying this every day, and my clients love coming in. My education at Northeast Iowa Community College helped to make this possible. No matter what your age, it's not too late to go to college. But it's important to go to college for the reasons you want to be there – to pursue your career dreams,"" Amy expressed.
Josh agreed, adding that the annual home construction project that is built into the Carpentry and Electrician curricula at NICC is the best hands-on test of students' skills. "I was surprised that our class had our own housing project and how much the teachers were involved every step of the way. I think that you get just as much of a quality education at NICC that you would at any big university. I use what I learned every day," he said.
"My son Josh is definitely a two-year college type of person," Amy noted. "NICC does such an amazing job of getting students prepared for the real world. The home construction project was so exciting for him – to use his skills to build a home from start to finish.
"I will always remember coming home after my classes at NICC and sitting around the table with my sons, all doing homework together. I made the dean's list every semester, and it was a huge boost in my confidence as an older student. I'm very proud of that," she said.
Her fiancé, Eric Burg, works as a forester for ITC Midwest conducting electrical line inspections across Iowa, and he is a major influence on Josh and his successful electrician career. Attending NICC runs in the family; Burg is also a 2001 graduate of the College's Arboriculture program.
Amy Thompson has two younger sons, a high school senior and a 7th grade student.
Tags: Alumni Shining Star
---