Fall 2017 Alumni Shining Star: Joe O'Dell, Graduate and Leukemia Survivor
Thursday, September 21, 2017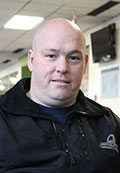 Northeast Iowa Community College's (NICC) place in the Dubuque area is forever connected to the thousands of students who enrolled, completed a degree and started brighter career futures. Often, our alumni have overcome enormous obstacles in their pursuit of a college degree and a brighter future. These standout graduates – even when faced with the most difficult challenges – transformed their lives and families through their example.
The fall 2017 Alumni Shining Star is Joe O'Dell, a 2016 graduate of the Computer Numerical Control (CNC) Machinist Technician program continuing his training as a Metal Working Apprentice at the Peosta campus. O'Dell is one of the College's top CNC graduates and one of only four apprentices from Dubuque Screw Products to be enrolled in the advanced program. This tremendous progress, in a very short time, all happened after a leukemia diagnosis ended his career.
He had spent his entire working life following in his father's and grandfather's footsteps working in the Dubuque logging industry until the sudden diagnosis stopped him in his tracks.
"In June 2014, the doctor said I may not make it to Christmas. So my wife and I decided to get a second opinion at the University of Iowa Hospitals and Clinics in Iowa City. We saw a specialist and the doctors worked their magic; my cancer is now in remission," O'Dell shared, adding his doctor would not permit him to return to work – in logging or anywhere else – until summer 2016.
"I'm not the type of person to sit and think about a diagnosis and not work. I wanted to stay busy, so I enrolled in the CNC Operator-Career Pathway Certificate program through NICC Business and Community Solutions. I went back to school. I love working with my hands and doing hands-on work. It's so natural for me," he said.
After completing CNC Operator in May 2015 and with a thirst to learn more and develop his skills further, O'Dell enrolled in the CNC Machinist Technician diploma program in August 2015.
"In the CNC Operator program I started to get so far ahead in my work compared to my peers. Dan Parker, my CNC instructor, gave me extra things to work on. He's the one who saw that I would benefit from enrolling in the diploma program," he said.
O'Dell set even higher career goals as he envisioned his future CNC career.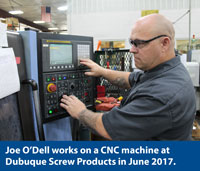 "During the summer between the programs, I was thinking, 'I can be more than a CNC machinist entry-level technician. What's the maximum I can take this career?' NICC now has a Metal Working Apprenticeship program and the CNC open lab," explained O'Dell. "I began training to become an apprentice with my employer Dubuque Screw Products; I want to become the elite of the elite for a company with my machinist capabilities."
Joe O'Dell and his wife Crystal have a son, Cade (6), and daughter, Alli (5). The graduate and his family are thrilled that he has a clean bill of health, a new outlook on life and a promising career.
"I really do believe in miracles. After I was diagnosed with leukemia, I met such great people in the community and at Northeast Iowa Community College. The people at the College teach you that you can do and overcome anything – any challenge, even leukemia. The sky's the limit now, and I'm shooting for the stars," he said.
Tags: Alumni Shining Star
---