NICC Alumni Shining Star: Delores Fagle Thom, '87, Hall of Fame graduate and business owner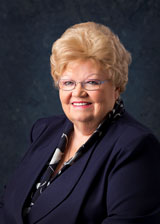 Northeast Iowa Community College's place in the region is forever connected to the thousands of students who enrolled, completed a degree and started brighter career futures. These standout graduates have transformed their lives, families and local communities through service to others.
To recognize her achievements and contributions, the College has named Delores Fagle Thom a 2017 Alumni Shining Star. Delores is a 1987 graduate of the Accounting program who returned to school at 46 after a lifelong career working on a dairy farm three miles west of Fayette. Delores managed all tax and accounting responsibilities for the dairy operation that she purchased in 1970 with her late husband Dwaine Fagle. Her personal mission to have an independent career, contribute to the family's business success and eventually become self-employed prompted her decision to continue her education.
In October 2014, Northeast Iowa Community College inducted Delores into the Hall of Fame. In fact, Delores credits the late Bill Wermers, accounting instructor, and other key NICC faculty members for the inspiration to start a business. Now in its 30th year, Delores' Tax and Accounting in Fayette is the realization of a dream, according to Delores.
"My teachers at Northeast Iowa Community College really changed my life. When I enrolled at the College, I didn't even know I was going to start a business," she recalls with fondness. "After being with Bill Wermers and learning from faculty in the second year of the Accounting program, they encouraged me to open my own business."
As an adult learner in classrooms filled with recent high school graduates, Delores felt immediately welcomed on campus. She discovered that her work experience in farming provided important life lessons for younger peers.
"I really fit in as an older student in class. At 46, I had other work experiences, such as managing a farm, that young students from the local area could learn from. I was able to organize my life. I had graduated from Independence in 1958 third out of 100+ students, and I was the only one of my five siblings to go to college," she said.
Early in her career, the graduate volunteered her tax preparation expertise to the IRA/AARP program to provide free tax counseling for Oelwein Public Library's low-income, disabled and elderly patrons – nearly 100 individual clients annually. She received the Governor's Volunteer Award from Terry Branstad in 1987 for her volunteer service to the community.
Over the course of 30 years, Delores' Tax and Accounting grew steadily and topped 240 clients in 2016. In addition to tax preparation services, Delores handles some payroll accounting and sales taxes for local business owners. This year, she pared down the clientele list to approximately 180 farm and business clients to make things more manageable.
Retirement is a difficult full-time life to imagine for Delores, who loves to stay busy and focused working on crossword puzzles, crocheting, volunteering and painting, as well as accounting work. "Retiring depends on my health," said the 77 year-old NICC graduate. "I'm hoping to at 80. But I probably won't completely retire; I'd like to keep going with some of the payroll accounting. I think it's very important to keep busy in retirement."
After her husband Dwaine Fagle died in 1996, Delores reconnected with a high school sweetheart, Bill Thom, in 2011. Delores and Bill had dated as teenagers when they were county 4-H officers devoted to farm life. Bill was widowed and working in Nicholasville, Ky., for the University of Kentucky-Extension Service. He found a sympathy card Delores had sent when his wife died in 2005 and decided to contact Delores. The couple married in 2011.
In February 2014, Delores Thom chronicled her rekindled love in the short story, "The Unopened Card," which was published by Angel Magazine and the publisher of the Christian publication, Guideposts, in New York City.
"God has a way of working things out of you, and through the accounting profession I truly found my calling," Delores expressed. "It's nice to be your own boss, and I really enjoy an independent life. The College helped me to do this, and I'm thankful I returned to school. I never thought twice about how important it is to serve the community and get involved – I feel that there is a real need."
Tags: Alumni Shining Star
---