Alumni Shining Star: Boutique owner Rylynn McQuillen expands business, builds relationships
Thursday, September 6, 2018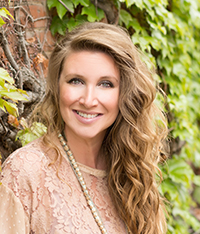 Stepping inside the Fig Leaf women's boutique in Dubuque feels a lot like visiting your best friend. Owner Rylynn McQuillen greets each customer with a charismatic smile and a honest opinion. That's a skill she learned from her favorite teacher.
Rylynn grew up watching her mother, Ellen Liberg, run The Fig Leaf in downtown Galena, Ill. As a child Rylynn had her sights set on one day taking over the family business.
When her mom moved the business to Dubuque, Rylynn became more involved in Fig Leaf's daily business operations. Rylynn knew that in order to be truly successful she needed business expertise. That's why she enrolled in Northeast Iowa Community College's Marketing program, graduating in 2015.
Rylynn says Suzanne Seedorff, and Denny Zelinsky, both now retired NICC business instructors, were the most influential teachers she ever had.
"Denny taught me that running a business is not about math and logistics, but rather it's about engaging in real conversations and building relationships with customers," recalled Rylynn.
Rylynn says she uses the skills she learned at Northeast Iowa Community College on a daily basis, and her instructors gave her the knowledge and confidence she needed to advance her career.
"Right before graduation, Denny gave me a one dollar bill and said, 'let this be your first dollar bill, because I know you are going to be a business owner.' I never forgot that. He was right," expressed Rylynn.
Rylynn and her husband purchased Fig Leaf in 2016. The couple has expanded the business as well as its social media imprint. Rylynn is extremely interactive with the store's 3-thousand Facebook followers.
To recognize McQuillen's success in business and building relationships, the College has named McQuillen an Alumni Shining Star this fall.
Northeast Iowa Community College's place in the Dubuque area is forever connected to the thousands of students of all ages who enrolled, completed a degree and started bright career futures. NICC alumni have made a powerful impact on local communities and are often connected to one another as family; their success stories honor the College and its mission and purpose. In this spirit, the College honors Alumni Shining Stars during the year to celebrate standout graduates who have transformed their lives and families through their example.
Tags: Alumni Shining Star
---