Businesses and employees gain through "Earn and Learn" model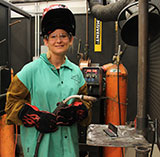 Need employees now? Sponsor a student's education. Students can work for you while enrolled in college. Northeast Iowa Community College offers 17 Career Pathway Certificates (CPC) for entry-level, middle skill positions in many industries, including advanced manufacturing, healthcare, construction technology and transportation. The certificate training programs are true demonstrations of the Earn and Learn model in action.
"These certificates are beneficial for local companies because they can find qualified people to fill their skilled employment positions. An 'Earn and Learn' approach between companies and knowledgeable employees has an beneficial impact on the employer, especially in the long run," said Keith Hilby, a 2017 CNC Operator career pathway certificate graduate now employed at Webber Metals in Cascade.
These career pathway programs are developed in partnership with local employers who interview students during their training as potential employees. In many cases, students are able to secure part-time employment with a company through the Earn and Learn approach. Employers have the opportunity during their prospective employee's training to review each candidate's skills on standardized competency tests and meet their skilled employee needs.
"Career Pathway Certificates, or CPCs, are similar to apprenticeship programs because graduates are positioned to continue their training and education at the College or immediately enter the workforce. Our CPC graduates have demonstrated an average success rate of 95 percent for having secured employment or continued their education," explained Wendy Mihm-Herold, Ph.D., Northeast Iowa Community College vice president of business and community solutions.
Northeast Iowa Community College also partners with 24 high schools to introduce students to careers in manufacturing and healthcare. Concurrent enrollment partnerships between the schools and the College are leading to the development of career pathways, career academies and new Earn and Learn options. This collaboration enhances northeast Iowa's talent pipeline, by building the workforce and supplying the skilled employees local businesses need, Mihm-Herold added.
For more information on Earn and Learn opportunities through Northeast Iowa Community College, contact Mihm-Herold at (563) 562-6263, ext. 221, or mihmheroldw@nicc.edu.
---