Industrial Sewing instructor, Barb Brockett, is working to keep the art of sewing alive
Thursday, February 14, 2019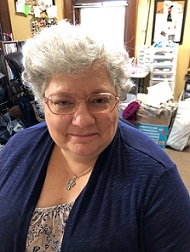 Barb Brockett is leading a movement, whether she knows it or not. The Northeast Iowa Community College instructor teaches an Industrial Sewing course at the Town Clock Business Center, three nights per week, through NICC Business and Community Solutions.
This spring, she is working with a small group of students with diverse backgrounds who are all interested in exploring industrial sewing as a career. "Two of my students are here in hopes of securing permanent hire positions. One of my other students has done some home sewing and crafting, and my other has never done any sewing at all," Brockett says.
The course Brockett teaches is part of the College's Industrial Sewing – Career Pathway Certificate program that was developed in response to businesses with skilled workforce needs. The program provides an overview of the manufacturing process, including its terminology, techniques and systems from product concept stage to completion. Students are introduced to basic spec and tape measure reading, understanding safety and learning ergonomic principles to create a safe work environment. General industrial sewing machine operation and maintenance instruction is covered and continually practiced, building skills throughout the program.
Brockett's mix of students is a strong indicator of the state of cut-and-sew positions across the U.S. manufacturing sector. According to industry statistics, increasing competition from overseas operations has resulted in a massive shed of American sewers over the last decade. Since 2008, the nation has experienced a nearly 42 percent decline in employment across the industry.
The skilled labor puzzle still faces challenges, especially for manufacturers like Flexsteel in Dubuque, that specializes in upholstered seating. NICC and Flexsteel partnered several years ago to develop the certificate program and provide instructional equipment for students.
"We use older industrial machines donated by local industries, including Flexsteel," Brockett explained. "We also rely on a supply of industry appropriate fabrics from Flexsteel and other organizations."
Brockett feels this partnership is vital because students learn and train on actual equipment and materials they would be using in the manufacturing environment.
"This curriculum, ideally, provides a prepared candidate for open sewing positions," says Karen Smith, human resource generalist at Flexsteel's Dubuque operations facility. "Bringing in individuals who have been trained with the machines and materials used in an industrial setting can be a huge advantage to maintaining a smooth production process."
Brockett's current group of students is slated to complete the program in late February, and the new graduates received invitations from Flexsteel to consider applying for positions at the company.
---