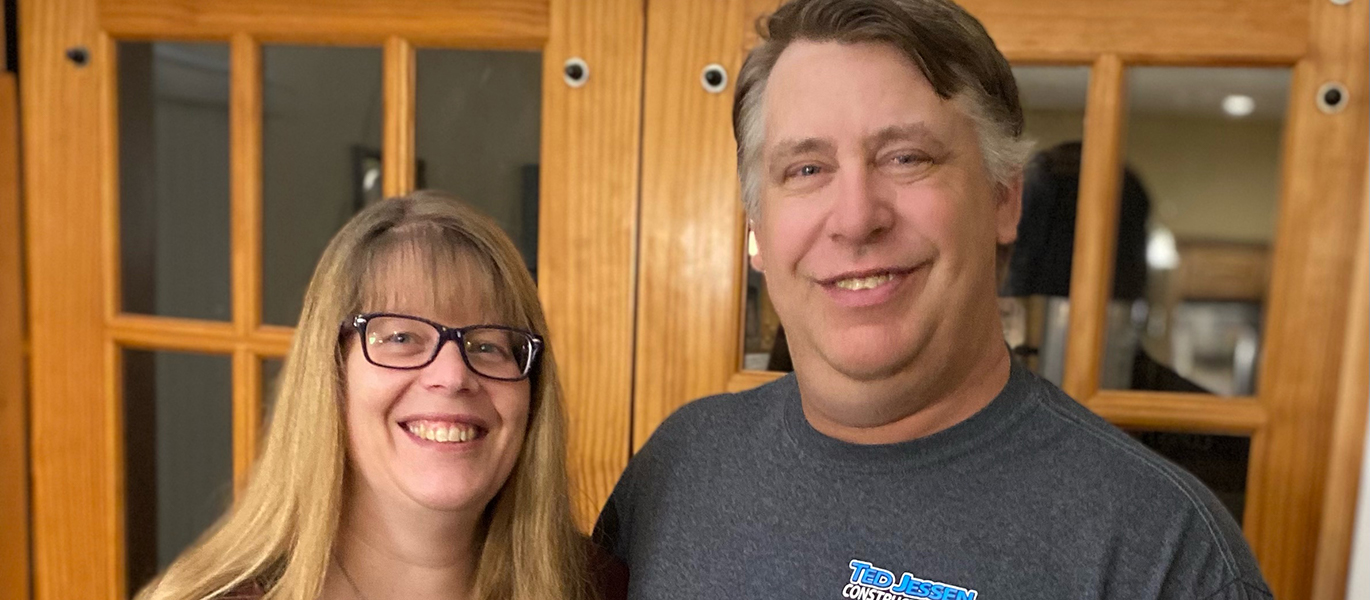 Northeast Iowa Community College names Ted and Melissa Jessen Alumni Shining Stars
Thursday, January 14, 2021
For their service to the local business community and healthcare, Northeast Iowa Community College has selected the Jessens as Alumni Shining Stars.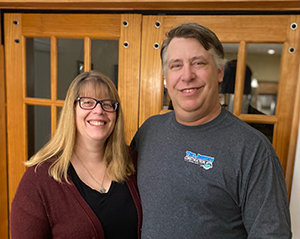 While it's true that colleges teach students the full range of rigorous, academic subjects – physics, science, history, trigonometry and calculus – graduates also achieve success from the "soft skills." Customer service, interpersonal skills, communication and ethics, in addition to hard skills and training, made a difference in Ted and Melissa (Lamphier) Jessen's lives and careers.
Ted graduated from the Construction and Carpentry program at the Calmar campus in 1993 and Melissa from Health Information Management in 1994. The couple married one week after Melissa's graduation and moved to Vinton, Iowa, to begin their careers.
"Northeast Iowa Community College taught us so much, especially to take pride in your work and to work for your success. And that integrity is everything," Ted explained. "The College gave us the tools to move up in our careers. NICC helped me with my confidence and prepared me for the job I want to do. After graduation, I continued to learn and grow in my profession."
Melissa's career in health information management began as a coder and medical transcriptionist for Virginia Gay Hospital in Vinton. Shortly after she was hired, her boss resigned. She applied for the supervisor position and got the job at 22 years of age – one of the youngest HIM department heads in Iowa at that time. Now in her twenty-sixth year at the hospital, Melissa has thrived in her career and grown with the changing industry.
"There have been a lot of changes since I started in my position: the medical record has gone from being on paper to being electronic; payment methodologies have evolved; coding systems have changed from ICD-9-CM to ICD-10-CM; and there are always new guidelines and regulations that need to be followed, particularly with Medicare. We had a lot of change in a short amount of time to keep up on the coding guidelines regarding COVID-19," Melissa explained.
Ted's career journey includes positions in auto dealerships, lumber yard construction crews and working for a real estate company building houses before launching his one-man operation small business, Ted Jessen Construction. His business is going strong after 15 years in Vinton, a town of approximately 5,000 people. He has been able to work for many great people over the years on both large and small projects.
"One of my best experiences was working for Great Plains Supply in Elkader after graduating from the College. We would build barns, hog buildings and the next day start building a $100,000 house. I loved the variety so much," he said.
The couple is devoted to serving the community. Ted is a volunteer for the Board of Adjustments in Vinton and contributed his expertise during the devastating storm events in 2011 and 2020. Melissa serves as a volunteer for events sponsored by Virginia Gay Hospital including the Party in Pink, which is a 5K for breast cancer awareness. She also represented the hospital at the farmers market and at the Benton County Fair. She continues to host Health Information Technology students from Kirkwood College, Indian Hills Community College and NICC so they gain valuable practicum experience.
Ted and Melissa have two sons, Andrew and Thomas.
For their service to the local business community and healthcare, Northeast Iowa Community College has selected the Jessens as Alumni Shining Stars.
Northeast Iowa Community College's place our region is forever connected to the thousands of students of all ages who enrolled, completed a degree and started bright career futures. NICC alumni have made a powerful impact on local communities and are often connected to one another as family; their success stories honor the College and its mission and purpose. In this spirit, the College honors Alumni Shining Stars during the year to celebrate standout graduates who have transformed their lives and families through their example.
Tags: Alumni Shining Star
---