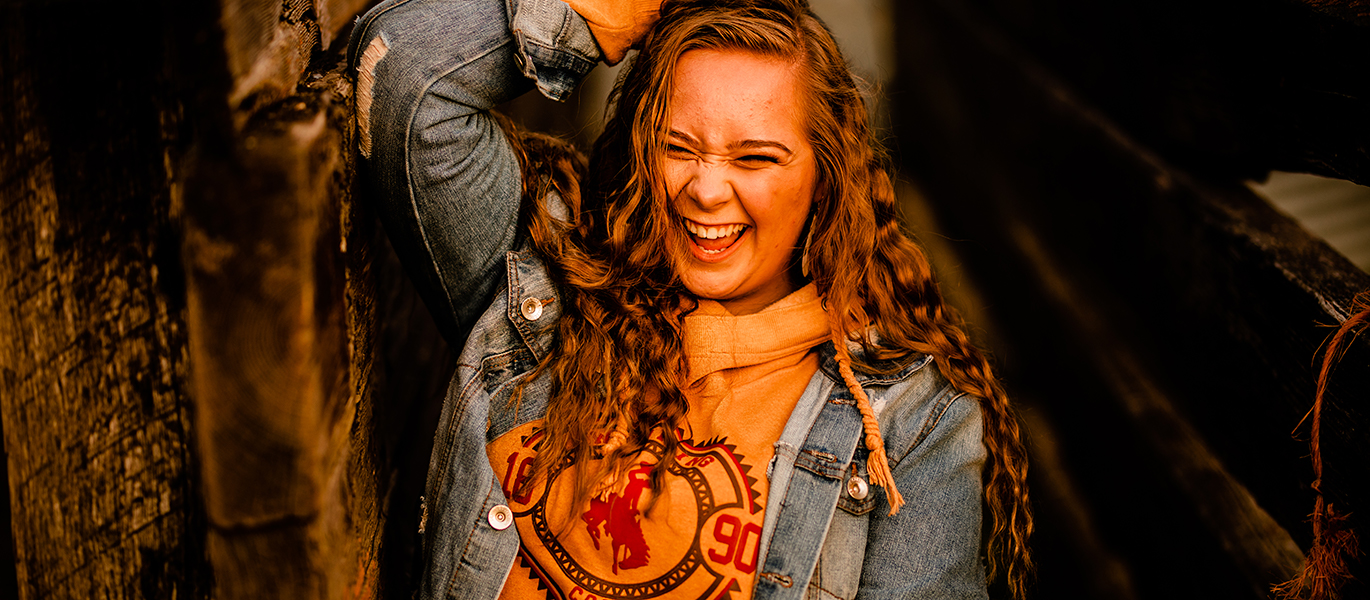 Getting an early start: Student's passion for photography leads to business ownership
Thursday, February 18, 2021
Cassidy said that the college-level business and communications courses she's taking, such as Principles of Marketing and Composition, are refining her content creator skills.
Many of the most successful professionals knew from an early age the career that sparked their interest and gave meaning and purpose to their lives.
That early start describes the experience of Cassidy Steger, an Edgewood-Colesburg High School senior. Cassidy's passion for photography started at the age of 13 and she's been behind the camera ever since.
In January 2016 Cassidy started her own photography business, Cassidy Leigh Photography. "People starting asking for family pictures and I thought it was so fun. I began doing portraits, senior photos, couples and families. I decided to take the photos I loved the most – couples photography," she said.
For the past several years, the ambitious high school student has built an impressive portfolio of work that also includes Miss Rodeo USA pageant winners and participants in Iowa. Heather Morrison, Miss Rodeo USA, was one of her first commissioned portrait sessions and it led to more pageant participants interested in Cassidy's work. "I was so excited! I grew up around horses, cattle and the rodeo," she said.
In 2020 she joined the Career Learning Link program through Northeast Iowa Community College to learn more about businesses and how they operate.
"The program helped me learn what I want to do and gave me an idea of what the College offers. As part of the program I talked to classes of fifth and sixth grade students about my photography business. One student I saw in the community later on said, 'I want to be just like you!'" Cassidy said, smiling.
Next fall Cassidy plans to enroll in the Business Administration degree program at NICC to develop her financial skills and business knowledge even further. To gain more experience, the student joined the staff of Delaware County Economic Development as a work-study. She works with the director, Donna Boss, to develop the agency's photography and Instagram and Facebook social presence.
She is on pace to have earned nearly 40 college credits from NICC when she graduates from high school in May. Cassidy said that the college-level business and communications courses she's taking, such as Principles of Marketing and Composition, are refining her content creator skills.
"My Comp 1 class helped me so much because it taught me how to write from the heart. I started to improve my social media content, especially to express what I feel and what I'm going through. That's the key: to produce content that is professional and relatable. Social media gives me an opportunity to really help others," she said.
She's taking Financial Accounting online through the College this semester. "I love online classes. You have to get your work done and prioritize your time according to your schedule. You have to be self-dependent and accountable. I really am enjoying learning about human resources and business in my courses. Taking classes at Northeast Iowa Community College while you're in high school is one of the best things you will ever do," Cassidy expressed.
After completing the Business Administration program, Cassidy plans to devote most of her time to her photography business and to travel more. She envisions a career that will allow time to work with a small business or non-profit organization on their social media presence.
To learn more about business programs offered at NICC, visit www.nicc.edu/business. High school students who want to about opportunities through Career Learning Link should visit www.nicc.edu/careerlearninglink.
---