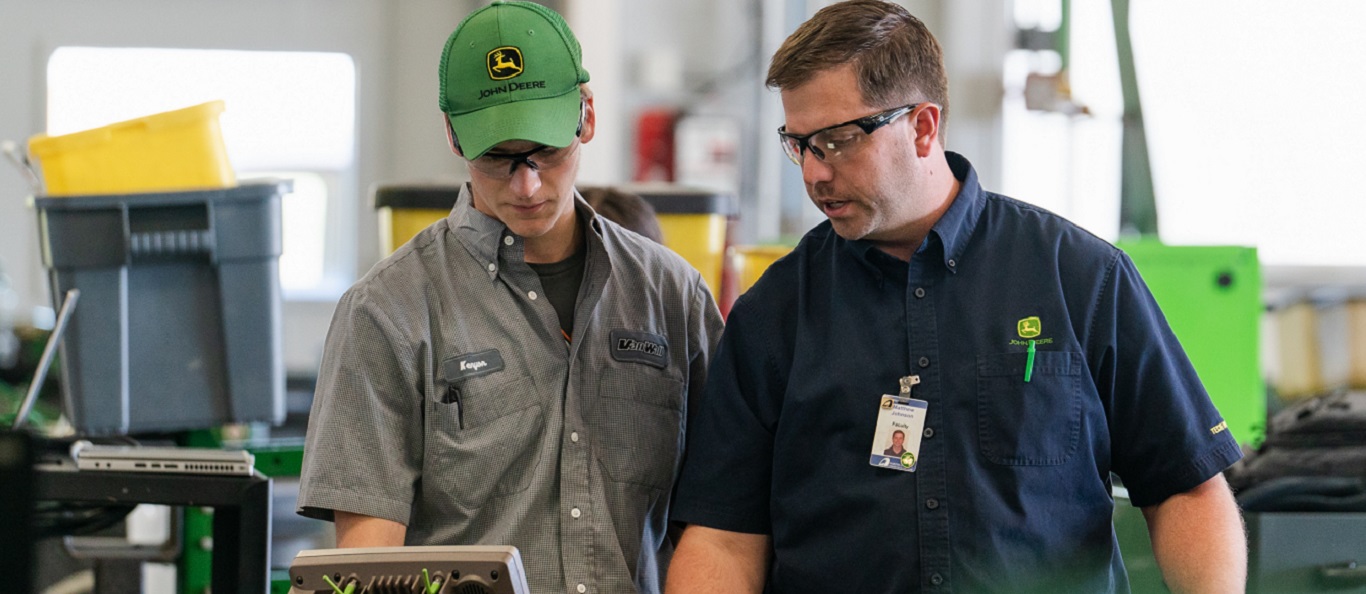 John Deere TECH program receives third Platinum level ranking
John Deere TECH program instructors at the College have a combined 147 years of John Deere experience.
CALMAR–The John Deere TECH program at Northeast Iowa Community College's (NICC) Calmar campus has earned its third top-ranking Platinum College of Tomorrow score from John Deere.
The John Deere TECH program at NICC prepares students for work as a service technician at John Deere implement dealerships throughout Iowa and the Midwest. One of the program's most unique features is its close partnership with John Deere, which virtually ensures that qualified students will have a technician position with the company after graduation.
Each year, John Deere evaluates its partnering institution technician programs on a variety of criteria. There are four College of Tomorrow levels – Platinum, Gold, Silver and Bronze, according to Duane Bouska, a lead instructor in the NICC program.
"The College of Tomorrow program is an ongoing evaluation by John Deere of our performance as a John Deere TECH school. The criteria used for the evaluation is based upon instructor training, interaction with the dealerships for student internships, dealer Advisory Committee meetings, facilities and image, student numbers and retention and safety. We are continually making improvements to meet goals set by John Deere and the College," Bouska said.
John Deere TECH program instructors at the College have a combined 147 years of John Deere experience. All four of the instructors have work experience at John Deere dealerships, as well as having completed extensive training and professional development courses through Deere, that help prepare students for tech positions at dealerships. In addition to Bouska, instructors are Neil Grube, Rodney Necker and Matt Johnson.
The partnership between the company and the College features an internship component at a dealership, and each entering student must secure a John Deere sponsor. When students complete requirements for the two-year degree, as well as a demonstration of their skills, they are hired by the sponsoring dealership.
The Platinum ranking is another indication of the program's rigor and excellence, said Kathy Nacos-Burds, Ph.D., NICC vice president of learning and student success.
"The Platinum ranking is a reflection of the program resources, the quality staff and the student enrollment, retention and completion trends, which are the product of the strong partnership with John Deere, the oversight of the program Advisory Committee and also our faculty's commitment and innovation throughout the recent challenges related to COVID-19," Nacos-Burds said.
For more information on the John Deere TECH program at NICC, visit www.nicc.edu/jdtech.
---