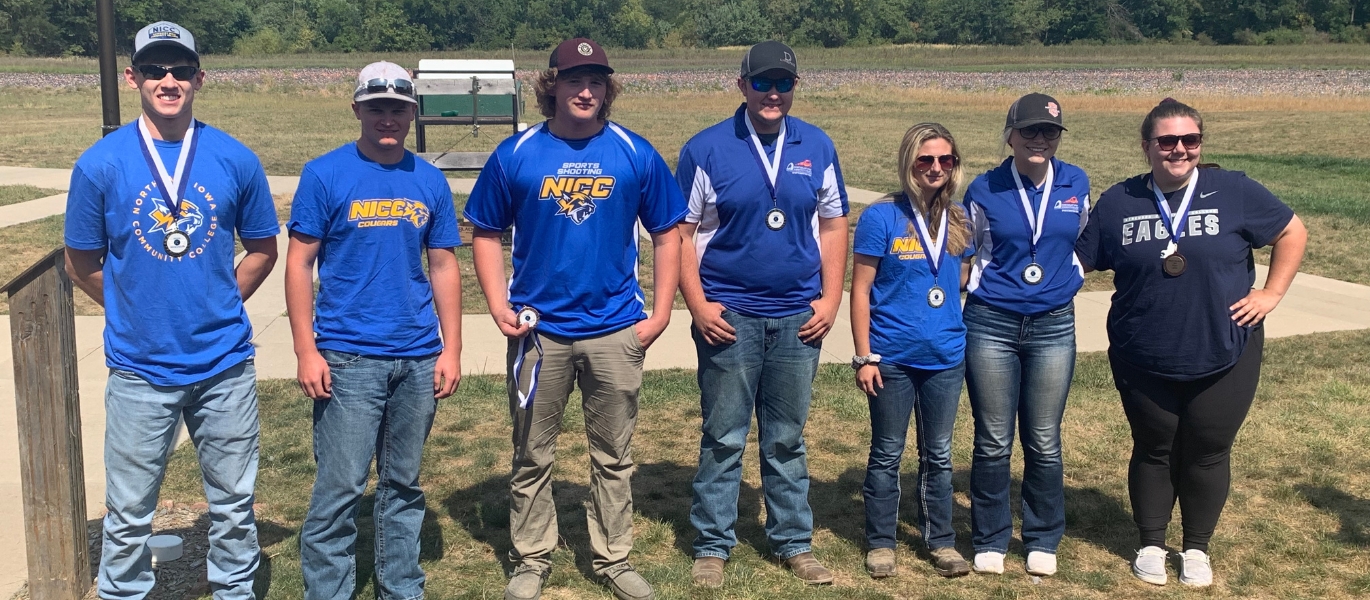 NICC Cougar Sports Shooting begins 2023 season with back-to-back victories
Tuesday, September 12, 2023
Top scorers from the Sports Shooting meet on Sept. 9 are (pictured above), left to right: Tristan Lewison, Kyle Larson, Colton Hruska, Austin Snell, Ashley Fischer, Hailey Elsbernd and Kirkwood athlete, Lexi Mikulas.
NORTHEAST IOWA—Northeast Iowa Community College Cougar Sports Shooting started off the fall 2023 season strong with back-to-back victories on Saturday, Sept. 9. NICC defeated Kirkwood Community College 481-427 in the day's first competition, followed by a victory over rival Indian Hills Community College, 481-473.
NICC student athletes competing against Kirkwood, and female individual scores, included Ashley Fischer, of Fort Atkinson, 97; Hailey Elsbernd, Fort Atkinson, 87; and MaKenzie Wiest, of Cassville, Wis., 42.
Male athletes' scores were: Tristan Lewison, of LeRoy, Minn., 98; Austin Snell, Decorah, 96; Colton Hruska, Cresco, 95; Kyle Larson, Cresco, 95; Tracer Tollefsrud, Canton, Minn., 94; Zachary Gronwoldt, Riceville, 94; Nicholas Saeugling, La Motte, 87; Ben Schildgen, Dubuque; 87; and Ty Kenan, Garnavillo, 81.
Female scores in the second competition versus Indian Hills were: Fischer, 97; Elsbernd, 87; and Wiest, 42. Male scores were Lewison, 98; Snell, 96; Hruska and Larson, both 95; Tollefsrud and Gronwoldt, both 94; Saeugling and Schildgen, 87; and Kenan, 81.
The competitions were hosted at Otter Creek Sportsmans Club in Cedar Rapids. NICC Head Coach Anthony Sisneros sees great promise in his team as they begin the fall season.
"We had an excellent outcome with our season opener versus Kirkwood Community College and Indians Hills Community College. With this triangular format to our competition, we were able to come away with two wins, giving our sports shooting team a 2-0 start to our season. Now we need to take this momentum and start preparing for our next competition against the Hawkeye Community College RedTails."
"It was a great way to start off the season," said NICC athlete Zach Gronwoldt.
"Weather was perfect for shooting! Couldn't be prouder of the team as we will keep growing as shooters," stated athlete Hailey Elsbernd.
The team's next meet is on Sept. 30 at Turkey Valley Trap Range in Jackson Junction, Iowa. For more information about the Sports Shooting team at NICC, visit www.nicc.edu/sportsshooting.