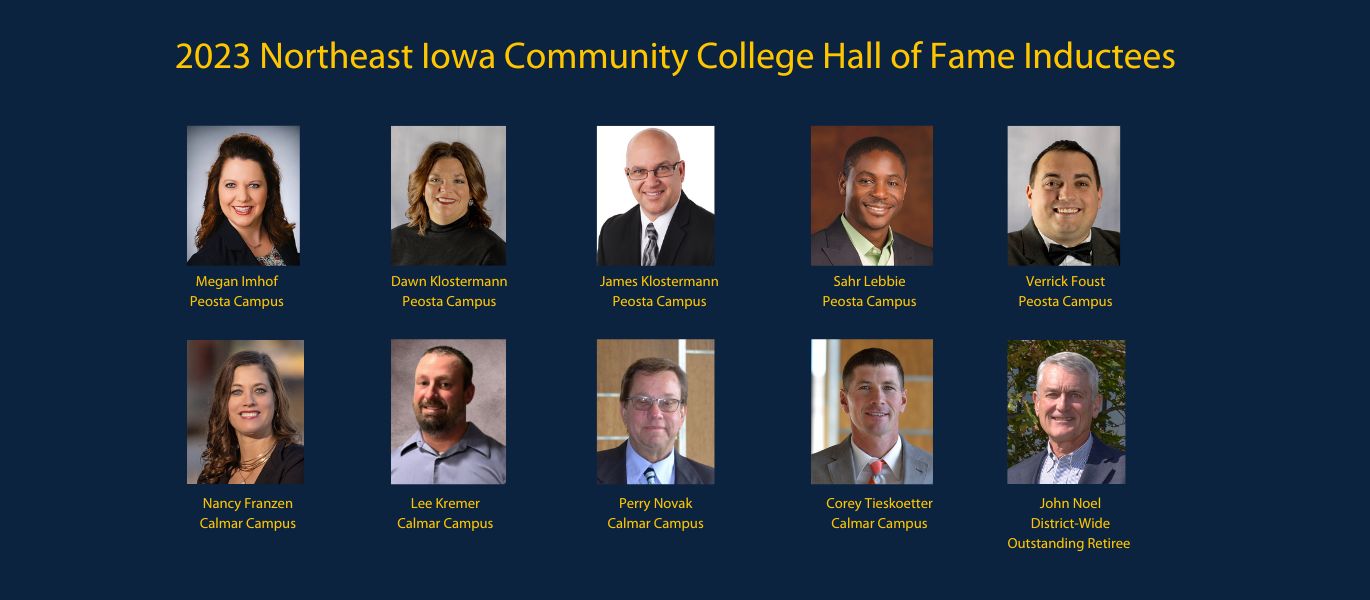 Northeast Iowa Community College honoring outstanding alumni and retiree in November Hall of Fame ceremonies
NORTHEAST IOWA—This November, Northeast Iowa Community College will celebrate nine alumni and a retiree for their outstanding career achievements and exemplary service to their communities.
The Peosta campus ceremony on Nov. 14 celebrates five NICC alumni.


Peosta Campus Alumni Inductees

Verrick Foust, Computer Analyst - Networking Administration and Tech Support, 2021. Foust, of Dubuque, is information security officer for NICC.


Megan Imhof, Health Information Technology, 2005; Data Analytics, 2023. Imhof, of Asbury, is director of renenue cycle for Medical Associates Clinic.


Dawn Klostermann, Dental Assisting, 1994. Klostermann, of Peosta, is the Dental Assisting program director and instructor at NICC.


James Klostermann, Marketing Management, 1994. Klostermann, of Peosta, is a business lending consultant for Dupaco Community Credit Union.


Sahr Lebbie, Associate Degree of Nursing, 2009; Practical Nursing, 2007. Lebbie, of Milwaukee, Wis., is CEO and founder of Holistic Home Health Care and Global Lite Inc.


The Calmar campus ceremony on Nov. 16 celebrates four NICC alumni.

Calmar Campus Inductees

Nancy Franzen, Management, 1995. Franzen, of Ft. Atkinson, is owner and insurance agent for the Farm Bureau Financial Services office in West Union.


Lee Kremer, Industrial Electrician, 2005. Kremer is service manager for McAllister Electrical Services in Cascade. He lives in Cascade.


Perry Novak, Electrician, 1975. Novak is founder and former owner of Perry Novak Electric in Decorah. He lives in Decorah.


Corey Tieskoetter, Agriculture Business, 2014; Agriculture Business-Ag Finance, 2014. Tieskoetter, of Ossian, is an insurance services officer for Farm Credit Services of America in Decorah.


District-wide Outstanding Retiree Service Award Recipient

John Noel, NICC Foundation treasurer, 2007-2021; NICC vice president for finance and administration, 2006-2015. Noel, of Decorah, worked closely with the NICC Foundation during his years at the College and he continued service to the Foundation after his retirement. He was responsible for leading the Finance Committee through the adoption of a new, comprehensive Investment Policy and Objectives for Endowment Assets plan.
Since the College was founded in 1966, many NICC graduates have achieved distinction in their professions and through service to their communities. Retired faculty, staff and administrators continue to lend their time, talent and expertise to help NICC, students and graduates succeed. At the Hall of Fame induction, NICC will also honor new members of the Legacy Society, a group of donors who have chosen to honor their passion for education with a gift that provides a lasting legacy for the future of the College.

For more information on the NICC Foundation, visit www.nicc.edu/foundation.

---