Crisis Fund Dedication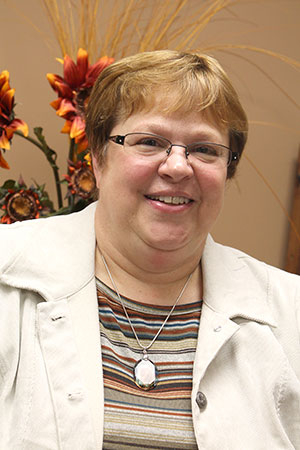 On April 20, 2021, the Student Crisis Fund was officially renamed the Kathryn J. Davis Student Crisis Fund to honor her on her birthday.
Kathy Davis retired in July, 2019 after 30 years of service at Northeast Iowa Community College. She served as the Peosta and Dubuque Center Mental Health Counselor, leaving a lasting impression with students and colleagues. Former colleagues and students described Kathy as a compassionate friend, kind, generous, thoughtful, caring and dedicated.
As a campus mental health counselor, Kathy spent her days listening to students and offering guidance and support. She was also known to extend the same listening ear to her friends and colleagues.
Kathy was a driving force for many initiatives on campus including the Student Crisis Fund and its annual fundraiser, which generates approximately $10,000 annually to provide emergency assistance to currently enrolled students. Kathy always thought of others' needs. She would take it upon herself to see students had their needs met, on numerous occasions seeking out donations for clothing or household items.
Those who knew Kathy well, knew the Student Crisis Fund was near and dear to her. Kathy frequently created beautiful baskets to donate to the silent auction, made hand-crafted cards to sell in support of the fund and was a key member of the planning committee of the annual fundraiser. Kathy served on countless NICC and community organizations and actively volunteered in her community.
In her retirement, Kathy remained an active advocate for mental health in her community serving on the Mental Health America Dubuque Chapter and volunteered at Cozy Corners Adult Day Services. Kathy planned to devote her time to her beloved family, her husband Chuck, sons Billy and Tommy and her sister Jackie and continue to craft beautiful projects. Tragically, Kathy's retirement plans were cut short due to her untimely death in March 2020.
Kathy is greatly missed, but her spirit of giving will live on through the Kathryn J. Davis Student Crisis Fund, as we dedicate this fund to honor her memory.