This Month's Alumni Shining Star: Scott Perkins of New Hampton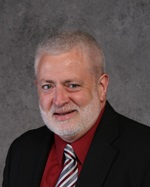 As part of Northeast Iowa Community College's yearlong celebration of its 50 years of service to students, communities and organizations throughout northeast Iowa, the College is honoring "Alumni Shining Stars" every month to honor individuals who have demonstrated their support for NICC and its mission.
The May 2016 Alumni Shining Star is Scott Perkins, of New Hampton, who graduated from the College's Accounting Specialist program in 1979. NICC inducted Perkins into the Hall of Fame in 2009 for his success in business and industry, and for his many contributions to the community.
"I loved the business and accounting courses I had in high school and after those experiences, I wanted to pursue a career-based education in the accounting field. Northeast Iowa Community College, which was known as Area One Vocational-Technical School at the time, offered a two-year Accounting Specialist program and it was everything I was looking for. The instructors, especially the late Bill Wermers, were fantastic," expressed Perkins. "Bill probably had the greatest influence on what and where I am at in my career today. My education at NICC allowed me to "hit the floor running" with my accounting education. I was hired two weeks before my graduation."
As president and CEO of TriMark Corporation, Perkins believes that NICC is the best solution for the training needs of his employees. The College has provided service to TriMark for more than 30 years, with training ranging from new employee orientation to advanced engineering and businesses practices, according to Perkins.
"NICC spends time in our facility and is committed to delivering the quality training product we are looking for, often directly geared to our specific needs. We like the approach of "changing one life at a time"; at TriMark, one employee at a time can make a huge impact and for our company, it's a matter of hiring one employee or developing one idea at a time," he expressed. "Our employee needs have changed dramatically over the years. The jobs now require complex blueprint reading, robotics and CNC expertise. NICC has supported our changing needs for many years, and we believe all of the communities of northeast Iowa are benefiting from the College's commitment."
Perkins estimated that NICC coordinates and provides 4-5 training programs with the company each year, with training that has covered 8D Corrective Action and Material Review Board, Production Process Training, First Aid/CPR, Lean Manufacturing, DOT Haz-Mat Shipping Regulations, Word-Excel-Outlook, OSHA Qualified Electrical Personnel and Industrial Maintenance, to name a few.
The College's extensive and customized training programs for business and industry, as well as its active involvement in local school districts, prompted Perkins' support for the Campaign for Excellence.
"I believe it is especially important to teach and educate students about careers, and to support initiatives like STEM (Science, Technology, Engineering and Math). NICC has also developed career pathway certificate programs based on business and industry input; these can jump-start careers and are offered at the high school level for concurrent enrollment student who may earn high school and college credit," Perkins emphasized.
Scott Perkins and his wife, Penny, have been married for 31 years. Penny recently joined the NICC team as a reading/writing instructor in the Learning Center at the Calmar campus. Scott and Penny have two children, Zachary, 27, who lives in Cedar Falls and Emma, 23, who will graduate from the NICC Early Childhood program this month. Scott Perkins also has an avid interest in photography that he plans to pursue after his retirement from TriMark.
The NICC Foundation launched the Campaign for Excellence in October 2014 and raised more than $11.4 million in resources from donors, such as the Rothlisbergers, who support NICC students and programming. Campaign for Excellence resources included cash, pledges, grants, in-kind donated gifts, gifts given through the community foundation and charitable planned gifts.
The successful campaign focused on three major NICC initiatives: (1) to enhance students' access to education and training for their success; (2) to develop emerging programs needed to provide a skilled workforce; and (3) to lead the technology and best practices in the agriculture field for the betterment of future farm families and agribusiness.
Tags: Alumni Shining Star
---