An NICC Alumni Shining Star: Drew Batterson of Decorah
The history of Northeast Iowa Community College (NICC) is forever connected to its alumni – the graduates who have progressed into their ‌careers successfully, raised families and served their communities, and have helped to honor NICC by sharing the College's story.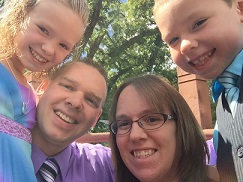 In this spirit, the College is honoring "Alumni Shining Stars" during the year to celebrate these standout individuals who have demonstrated their support for NICC and a commitment to its mission. The September 2016 Alumni Shining Star is Drew Batterson, of Decorah, a 1998 Automotive Mechanics program graduate from the Calmar campus.
Batterson knew as a high school upperclassman that enrolling in a four-year college or university would not be a good match for his career goals. Forever inspired by cars and auto mechanics since his youth, the NICC graduate absolutely knew it would be a two-year community college that could offer him the chance to transform part-time work cleaning cars into a full-time, long-term and successful career.
"I love the automotive field, in general; this is where my true passion is," Batterson reflected, now employed for nine years as service manager and foreman for Torkelson Motors in Elgin. "I was a guy who in 11th grade already loved working on cars. I knew this is what I wanted to do. I didn't have the desire at all to go to a four-year college. Honestly, if Northeast Iowa Community College wasn't there, I wouldn't have even gone to college. NICC worked for me well. Graduates of community colleges can make $50,000 a year and, in our area, you will do quite well for yourself."
Attending the NICC Calmar campus to enroll in the Automotive Mechanics program offered Batterson not only the standard rigorous courses in transmission/transaxle, brakes, electrical systems, engine performance and engine repair, but an opportunity to complete a degree. Completing a degree at NICC requires that all students complete general education coursework in addition to their program-related courses. Several of the extra courses required for his degree challenged his thinking, broadened his understanding of others and taught relevant lessons – the 'soft skills' – which he applies to his career.
"I wanted more challenges in my work when I took the service manager position at Torkelson. There are a lot of different things involved in day-to-day management here: communication with customers, problem-solving all day long and managing our four auto technicians. I see that I'm using what I learned in other NICC classes, like psychology and English. Some of what I do involves customer service; I'm really helping people and fixing their problems," explained Batterson.
Batterson takes every opportunity to enjoy his professional career as a favorite pastime, even after work and on weekends. He and his family are avid fans of local dirt track racing in West Union, Decorah and Cresco.
"Up until a few years ago, I helped out in the pit area and worked on cars before and during races. I fixed tires in between races. I still help out other drivers, mostly to offer technical advice. Now my family and I have been busy during the year attending school athletic events in Decorah. We go through a kind of 'shift year': in the fall we go to football games, then basketball, followed by baseball in the spring and then, in the summer, go to races," Batterson expressed.
Drew and his wife Heather have two children, Kyliegh (12) and Braedyn (9). Heather Batterson is originally from Decorah and Drew from Elgin. The couple moved to Decorah in 1999. Drew Batterson believes in the importance of giving blood locally and is a regular donor to the Blood Center of Iowa. His connection to Northeast Iowa Community College remains strong and familiar. Three of his auto technicians – Terry Throndson, Les Sass and Brian Lane – are also graduates of the College.
Tags: Alumni Shining Star
---