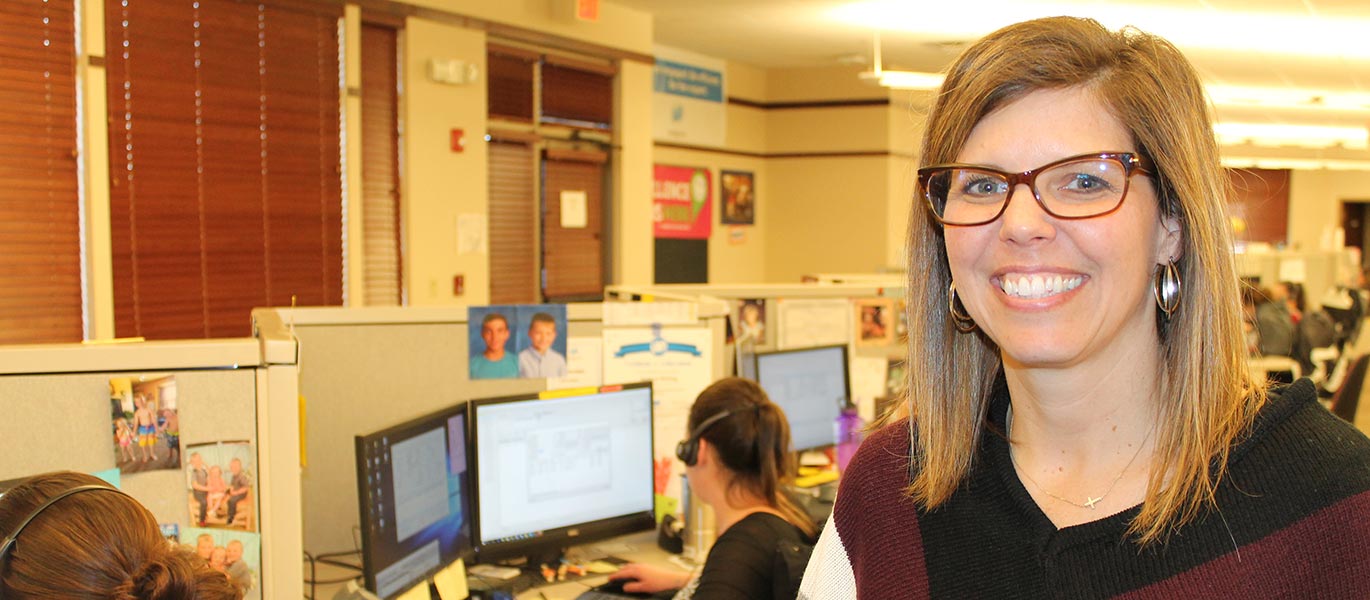 Northeast Iowa Community College names Lisa Sahm, of Dubuque, an Alumni Shining Star
After losing her long-time sewing job at Flexsteel Industries in Dubuque, Lisa Sahm and her four former co-workers wanted to gain new and employable skills. The group, who jokingly referred to themselves as "The Fabulous Five," enrolled in the Administrative Office Management program at Northeast Iowa Community College. For Lisa, this was the first step in transforming her career.
Lisa began her course work in the Administrative Office Management program and quickly decided to also earn a one year diploma in the Accounting program. She credits her instructors, James Onsager, Denny Zelinsky, Susanne Seedorff and Marianne Weber as the driving force behind her success in the classroom. She says she worked hard in her classes because she respected her instructors and never wanted to let them down.
As part of the Administrative Office Management program, students are required to get an internship at a business where they can put their skills to work. Sedgwick, an international insurance claim company that had recently added an office in Dubuque, hired Lisa as an intern. She says succeeding in that position was the second step in transforming her career.
Just as she was preparing for final exams and graduation, her father died unexpectedly. After the funeral she was heartbroken and un-motivated to return to school. But return she did, and remembers her instructors and the members of "The Fabulous Five" waiting for her in the doorway to welcome her back to class. Her instructors told her she could finish her work whenever possible, and she knew that she needed to finish and graduate. This may have been her most difficult step in transforming her career.
After graduation, Sedgwick hired Lisa for an entry-level claims assistant position. She worked her way into an administrative assistant position, then was promoted to her current position, Senior Team Lead, where she leads 15 members of the customer service team.
In 2016, Sedgwick named the Northeast Iowa Community College alumna one of company's top 50 employees, out of 21,000 colleagues. Lisa says that recognition is one of her proudest accomplishments of her career.
For her tenacity in reinventing her career and motivating her team with a positive attitude, Northeast Iowa Community College has selected Lisa Sahm as an Alumni Shining Star.
Northeast Iowa Community College's place in the Dubuque area is forever connected to the thousands of students of all ages who enrolled, completed a degree and started bright career futures. NICC alumni have made a powerful impact on local communities and are often connected to one another as family; their success stories honor the College and its mission and purpose. In this spirit, the College honors Alumni Shining Stars during the year to celebrate standout graduates who have transformed their lives and families through their example.
Tags: Alumni Shining Star
---