National farm safety center at NICC partners with Design Mill to create Virtual Reality safety simulator
Thursday, January 10, 2019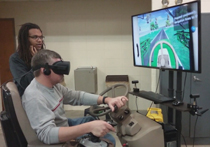 PEOSTA—A conversation between Northeast Iowa Community College and computer programming leaders at Design Mill, Inc., of Dubuque, has led to development of a new self-propelled sprayer virtual reality (VR) driving simulator for agricultural safety.
Directors from the National Education Center for Agricultural Safety (NECAS) at the College's Peosta campus partnered with Design Mill to develop the VR simulator. Using real tractor hardware, the virtual reality experience simulates the operator's visibility while operating a 70' to 110' sprayer boom, as well as simulate boom arm physics motions and controls from a seated position in the simulator. This provides practical training before operating expensive and potentially dangerous equipment.
"We have enjoyed working with Design Mill on this product's development and having the opportunity to suggest ideas and training modules to improve the simulator's realism for training participants. This VR training will provide a safe practice zone for an operator encountering obstacles in spray application, such as rugged terrain, other vehicles, trees and bridges, for example. Custom application can be very dangerous work," said Dan Neenan, NECAS director. Neenan and the ag safety center plan to roll-out this training by this summer.
"We met with NICC President Liang Chee Wee in early 2018, and he asked if our team had ever designed a simulator for agricultural safety use. We hadn't, and decided that this would be a very interesting project to take on," explained Nathan Greiner, P.E., president and chief technology officer for Design Mill Inc. "Recognizing the unique ag-focus of the simulator we also entered the product in the International Ultimate Coder IV: VR Challenge sponsored by Intel and Microsoft. In December 2018, our 'Self-Propelled Sprayer VR Simulator for Agriculture Safety' won the challenge."
During the process, Design Mill programmers visited with an agricultural equipment dealer to gain additional insights into what videos, or scenarios, should be incorporated into the simulation equipment to enhance its realism. Greiner estimated that the coding and testing work to design the unit and eight different VR scenarios took about three months, he said.
Thatcher Block, director of safety and compliance for Innovative Ag Services and a member of the NECAS board of directors, highlighted the importance of collaboration between educators, agricultural leaders and private industry, and how teamwork can defray costs and ultimately impact farm safety in the community.
"Virtual reality is a technology that allows us to communicate and connect with each other on a different level. We welcome this technology and innovation into our training methods for the National Education Center for Agricultural Safety," Block said.
Design Mill, Inc. is a strategic systems integrator delivering pioneering solutions for industry leading organizations and the Department of Defense. A two-time recipient of Intel® Software Innovator Program Top Innovator award, Design Mill works continually to transform the integration of cutting edge interactive hardware and software through innovative design, development, and processes. Focusing on next-generation initiatives for virtual reality, augmented reality, and IoT, Design Mill enables clients to unlock revolutionary customer engagement approaches and untapped growth strategies to generate synergies for a new level of success. For more info visit www.designmillinc.com
NECAS is dedicated to preventing illnesses, injuries and deaths among farmers and ranchers, agricultural and horticultural workers, their families and their employees. NECAS' concern for safety in rural areas goes beyond farms and ranches. The need for services spreads from citrus groves in the South to vineyards in the West. It covers cattle ranches in Wyoming, fisheries in Maine and thousands of ventures in between. The center offers training and rescue programs for a variety of topics and also provides webinars to increase awareness for agricultural safety. NECAS trainings and rescue programs have resulted in 14 lives saved nationwide. For more information, visit www.necasag.org.
---