Decorah business owner among inaugural group: Goldman Sachs 10,000 Small Businesses program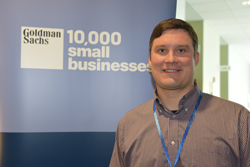 DECORAH – A Decorah business owner is among a group of 37 Iowans selected for the inaugural Iowa class of Goldman Sachs 10,000 Small Businesses. Dan Bellrichard, owner and founder of Sogo Snacks, is participating in the program to enhance his business knowledge and grow his company.
Through the business development program, Bellrichard is completing advanced coursework at Des Moines Area Community College (DMACC) and online. The three-month Small Businesses program, which will conclude in April, covers everything from identifying growth opportunities, refining operations processes, marketing and selling, understanding and using financial statements, and leadership training.
Sogo Snacks, the business Bellrichard manages with his wife, Liza, is a healthy meat snacks distributing company that serves predominantly online consumers in urban areas, such as Texas, California, Florida and Washington state, he explained.
"Sogo Snacks caters to busy families and busy people who like beef sticks, but have an interest in a more healthy version. Our customer base tends to originate from large urban areas," he said. The company currently employs five part-time staff members.
A 2001 graduate of Luther College, Bellrichard served as a small business development volunteer for the Peace Corps in Mali, West Africa, from 2001-2003. In fact, his business's name draws upon his language and cultural experiences in Mali. The word "sogo" in Bambara, the language of his African nation hosts, translates to the word "meat" in English.
"My work in the Peace Corps has had a profound impact on my life," he said.
The Goldman Sachs program is providing the individualized business development instruction he needs to grow and enhance his company.
"I have had no formal business training, so this program is helping me to develop a growth opportunity for Sogo Snacks and really analyze it, and the risks and benefits associated with business growth," Bellrichard said. "The Babson College curriculum that is used in the program is giving me the foundational tools needed to grow and implement new ideas."
A native of Austin, Minn., Bellrichard has worked closely with the Iowa Small Business Development Center and Jay Wickham, regional director, on business counseling and development. Northeast Iowa Community College recruited Bellrichard for the Goldman Sachs program, along with Dubuque business owners Luke Hoffmann, of Higley Industries Inc, and Tom Rauen, of Envision.
As a successful owner managing a growing business, Bellrichard offered advice for future entrepreneurs.
"People should realize that there are a lot of resources and organizations out there that want to help you succeed, and especially for small businesses. The resources will help guide you – including people and marketing resources, accounting and financial – that can put you as a business owner on more solid footing," he expressed.
Since the inception of Goldman Sachs 10,000 Small Businesses, the national program has been a tremendous success. Sixty-seven percent of alumni report increased revenues six months after graduating, 47 percent report hiring employees during the same time period and nearly 88 percent of graduates do business with one another.
---