Northeast Iowa Community College ag students return home with two national titles at conference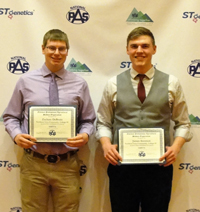 CALMAR—Twenty-four students from Northeast Iowa Community College competed at the National Professional Agricultural Students (PAS) competition in Loveland, Colo., from March 13 – 16. Dairy Science Technology, Beef Science, Large Animal Veterinary Technician and John Deere TECH students competed.
In the National PAS Ag Machinery Service Technician Award (AMSTA) contest, John Deere TECH team members Zachary DeBruin and James Arentson took home first place national honors (pictured in photo). Team members Cody Schwarz and Austin Brown earned second place national honors. John Deere TECH team members, Bryan Schlinz and Dane Hubbell, received a fourth place finish nationally.
DeBruin, Schwarz and Arentson, John Deere TECH, earned first, second and third place national honors respectively in individuals competition. Also in the individual competition, Brown received fifth place, Schlinz received eighth place and Hubbell, ninth place.
"There were 31 contestants from around the U.S. that qualified to compete nationally. The eight-hour contest was very similar to the state competition with testing, measuring, identification and 10 lab projects. We are proud to announce the NICC John Deere Tech students did a spectacular job representing the school and themselves," stated Duane Bouska, Northeast Iowa Community College John Deere TECH instructor.
State of Iowa PAS Ag Machinery Service Technician Award (AMSTA) contest
On Feb. 27, the John Deere TECH program at Northeast Iowa Community College hosted the State of Iowa PAS Ag Machinery Service Technician Award contest on the Calmar Campus. The six-hour contest consisted of a written test, parts identification, measuring and six lab projects.
Twenty-one contestants from across the state competed, including eight NICC John Deere TECH students. The students competed individually, and in two-person teams.
State PAS results:
Top individuals: Zachary DeBruin, first; Cody Schwarz, second; James Arentson, third, Dane Hubbell fourth; Colton Smith, fifth; Austin Brown, sixth; Ian McDonald, seventh; and Bryan Schlinz placed eighth.
Top teams: Zachary DeBruin and James Arentson, first place; Austin Brown and Cody Schwarz, second; Bryan Schlinz and Dane Hubbell, third; Colton Smith and Ian McDonald, fourth.
For nearly 40 years, PAS has been developing two and four-year college-level professional agriculture students for the workplace through participation in employment experience programs, skill-set development, network opportunities and organizational activities.
The one-of-a-kind national collegiate-level, competition-style learning model gives students the practical and hands-on development opportunities essential for career success. Students compete at the local, state and national levels and are guided by faculty advisors to develop the technical, professional and soft skills required for career success within the agriculture industry.
For more information, visit www.nationalpas.org.
---