Salon owner Danna Kubik's college experience arrived at the right time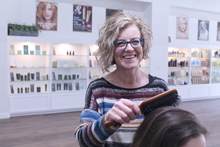 Life can get in the way of our most cherished career dreams sometimes.
Danna Kubik, '18, remembers wanting to be a cosmetologist as a determined young girl, developing her hair cutting and styling skills with her Barbie dolls, as her customers. A cosmetology career seemed to be the right fit. Yet, right after graduation from high school, she married and started raising a family.
"I never thought I would have the opportunity to return to school and earn a cosmetology degree," Danna said. "One day my husband Mark, who knew this was an important goal of mine, asked, 'Why don't you go to cosmetology school?'"
A 21-year resident of Cresco, Danna enrolled in the Associate of Applied Science – Cosmetology degree program – a short drive to Northeast Iowa Community College's Calmar campus – at 48 years of age. Danna's career aspirations started to re-emerge as she studied and trained in program.
"It was so exciting to see all this: the classes on campus, the salon at the College, everything. I was a very dedicated student and missed only 10 hours of class time during the entire two-year program!" expressed Danna. She was named to the Northeast Iowa Community College Dean's List every semester and graduated in May 2018. During her time as a student, she was named to the Phi Theta Kappa Honor Society.
Earning a college degree later in life arrived at the right time for Mark and Kubik's plans. In 2016, the couple had purchased the former Spectrum building on Elm St. in Cresco. They moved their successful Kubik Plumbing & Heating company to the building and Danna handled the firm's bookkeeping. After owning and operating a DVD rental business in one of the building units – and seeing customer tastes change to digital and streaming media – the Kubik's saw an opportunity to completely renovate the structure. The location on Elm now houses The Hair Co. and Kubik Plumbing, Heating and A/C.
Today, The Hair Co. is the newest tenant in a completely re-imagined front space in the building. Interior walls expose the structure's original brick to create an historic, urban feel. The Kubik's are also in the process of renovating the second floor of the structure to accommodate four new apartments – two rental units and two Airbnb units, Danna said.
"In the salon there are three stylists, including myself. My daughter works with me as a stylist, and we have a massage therapist who also does hair," she said. "The renovated salon is beautiful, with a really open layout, and ceilings more than 12 feet high. We were lucky to find this building."
Returning to Northeast Iowa Community College's environment to pursue a career dream is possible for students at any age. "The faculty were very helpful, knowledgeable and supportive of me. Instructors help with the transition, too. They really build you up to succeed. You learn to fit in. I had great conversations with students and met friends," Danna explained.
Danna received the Blanche J. Hendren Cosmetology Award to support her Cosmetology education at Northeast Iowa Community College.
Tags: Alumni Shining Star
---