Graphic Design students win three American Advertising Awards in competition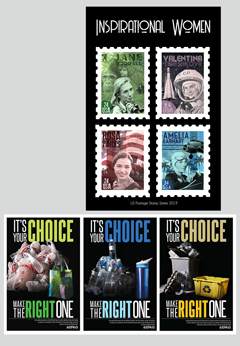 DUBUQUE—Two Graphic Design students at Northeast Iowa Community College's Peosta campus received three American Advertising Awards, or AAAwards, this semester. The students' work was honored in the American Advertising Federation (AAF) Student American Advertising Awards Competition in Dubuque.
The mission of the American Advertising Awards competition is to recognize and reward the creative spirit of excellence in the art of advertising.
Megan Lenane's "Inspirational Women" won a Gold ADDY in the student competition, Poster category.
Willie Tigges earned two Silver ADDYs. In the PSA Poster Campaign category, his "It's Your Choice" work of recycling advocacy was honored, as was a 30-second video commercial, "See Yourself," a promotion of the Graphic Design program at Northeast Iowa Community College.
Lenane is a first-year student from New Vienna. Tigges is a second-year student from Dubuque.
The AAF is a national nonprofit organization, promoting and protecting the interests of advertising and public relations. Locally, AAF Dubuque is the affiliate to the national organization and the American Advertising Awards.
Learn more about the Graphic Design program at www.nicc.edu/graphicdesign.
---