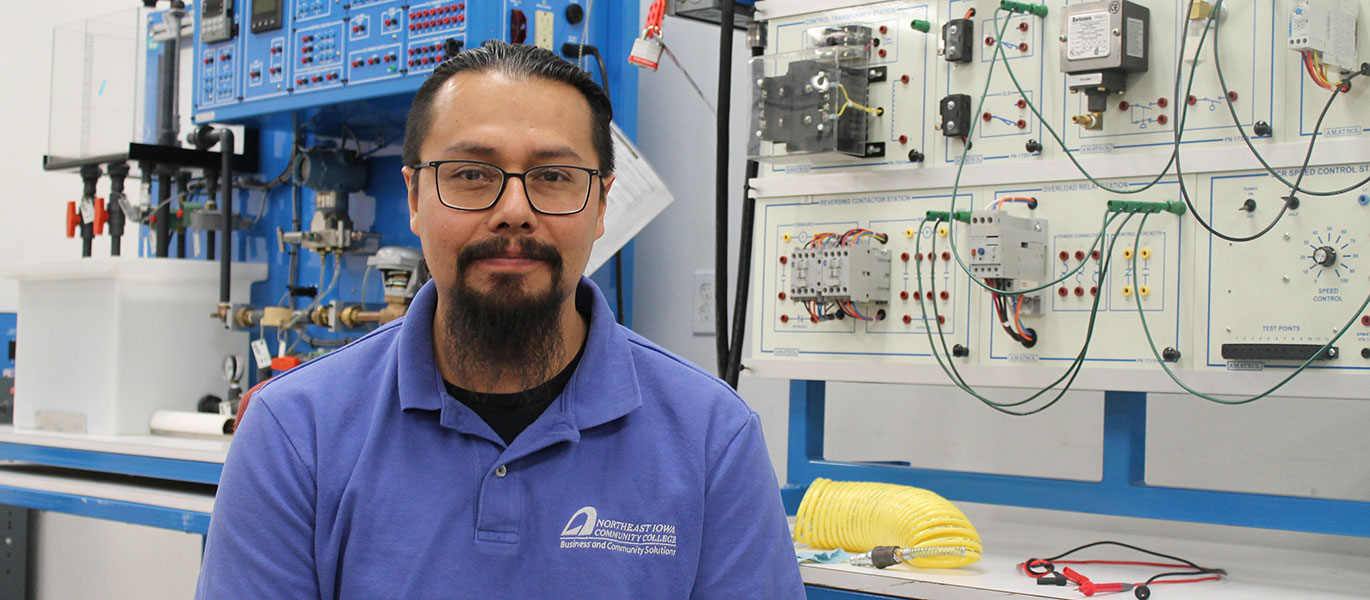 Full circle success: Leo Avila's advanced manufacturing training leads to career in education
Leo's hard skills in manufacturing, his eagerness to learn, and bilingual Spanish and English talents are in-demand.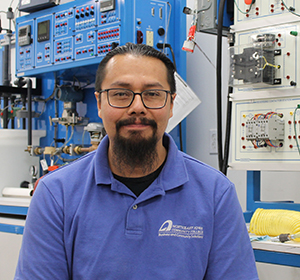 Whoever said long ago "Those who can, do; those who can't, teach" obviously never had the opportunity to learn from Leo Avila, an Industrial Maintenance instructor at Northeast Iowa Community College with 22 years of experience in advanced manufacturing, mechanics and preventive maintenance. In fact, Leo's career is a solid combination of both doing and teaching.
Leo's career in advanced manufacturing directly informs and inspires his classroom lessons and lab approach. In 1998, he started his industrial maintenance and equipment mechanics career in his home country of Colombia before emigrating to the United States in 2005. He worked in preventive industrial equipment maintenance, machinery and heavy truck mechanics, and owned his own security system construction and installation business, Da Vinci Mastercraft.
Manufacturing employment in the Midwest brought him to the Dubuque area in 2010 and to Northeast Iowa Community College, where he could upgrade his skills further.
"I completed one training program after the other at Northeast Iowa Community College from April 2014 to January 2019," Leo recalls, smiling, "including certificates in Electromechanical Technician, Intro to Maintenance Electricity, Computer Numerical Control, MSSC Production Technician, Electrical Maintenance training and also the Welding diploma program. I taught (retired instructor) Mike Dougherty's Welding program for several months and loved it."
Funding through the Opportunity Dubuque program supported his early certifications and helped pave the way to a successful career in the advanced manufacturing sector. Leo's hard skills in manufacturing, his eagerness to learn, and bilingual Spanish and English talents are in-demand. As an employee, he also mentored his co-workers. From 2012-2019 he worked as a diesel technician for Thompson Truck, and in 2016 his Welding diploma training led to an additional full-time robotic welder/laser operator position at John Deere Dubuque Works. A round of layoffs at Deere sent Leo looking for industrial maintenance work, his area of specialization.
"Losing my job at Deere was really hard for me. I had never been fired or laid off before. I became determined to complete more industrial maintenance training – it's what I want to do. I was hired by Progressive Processing (Hormel) and then Anderson Windows and Doors as an industrial maintenance tech. There was actually a time in 2018 when I had two full-time jobs and a part-time job. I was getting an hour of sleep a day, completely exhausted, and had to decide what to do," he said.
Finally, in April 2019, Deere contacted Leo to apply for a full-time positon as an industrial maintenance mechanic. He accepted the position and left his Anderson position. He was already substituting for the credit and Business and Community Solutions classes in CNC, and then teaching Welding and Intro to Industrial Maintenance at the College. Teaching allows Leo to give back and see students grow in their skills.
"Being given the chance to teach is a tremendous opportunity for me. Now I can share what I know and make a big difference in people's lives. I have worked constantly and long hours in my career. I'm glad I have money, but there's more to it. Life is a gift and I want to make the most of every moment I have. In your life, you don't have regrets if you did your best and made the most of your time," Leo expressed.
Now Leo is planning his next major life step. On May 23, 2020, he and his fiancée, Madi Stierman, are getting married. Madi is a 2019 Accounting Specialist graduate from NICC. She transferred to the University of Dubuque to earn a four-year degree in Business Administration.
---