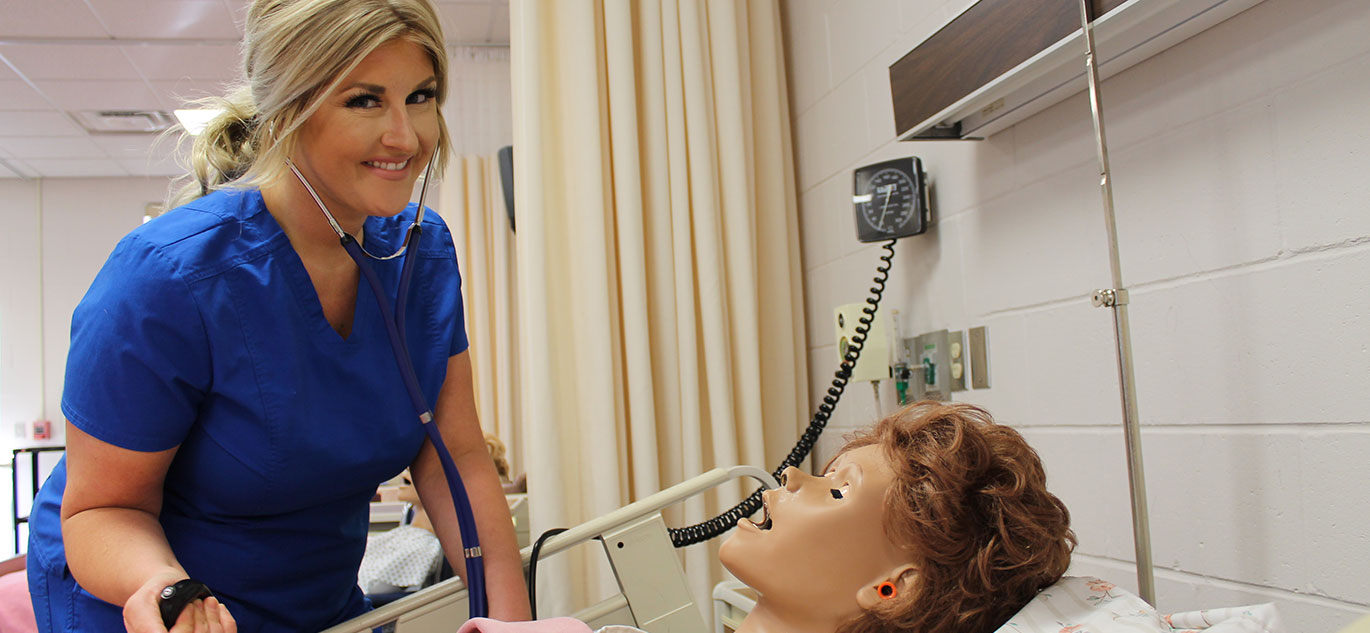 Challenging times inspire Northeast Iowa Community College healthcare student
"I want to be working on a healthcare team to bring the patient the best, efficient and highest quality of care in the most trying times."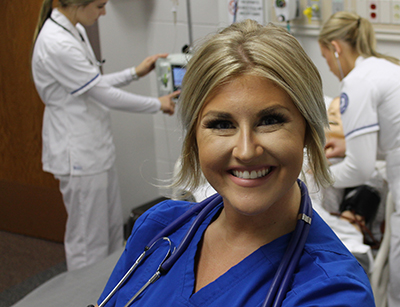 After graduating from high school, Katie Rueber enrolled at the University of Iowa and earned a B.A. degree in communications. The degree opened doors to stable employment in healthcare in an administrative capacity. Yet, seeing the day-to-day commitment of doctors, nurses and staff rekindled an earlier career dream – to become a Registered Nurse.
"While working in the healthcare industry for the past seven years, I have wanted to become a nurse and work in patient care as an R.N. In my role, I felt limited because I was not able to provide care for patients beyond my administrative duties," Katie explained. "I've wanted to become a nurse since high school. Now I want to work as a direct patient care nurse in a trauma unit."
The outbreak of the COVID-19 virus, the challenges of caring for patients and the commitment she sees, every day, from doctors and nurses fuels her inspiration even more.
"I want to be working on a healthcare team to bring the patient the best, efficient and highest quality of care in the most trying times," she said.
Katie's struggles with math and science in high school initially swayed her nursing career ambitions. When she refocused her career goals in healthcare and enrolled at Northeast Iowa Community College's Regional Academy of Math and Science (RAMS) and Oelwein Center, she was pleasantly surprised. Her fears of the two academic subjects started to fade.
"I was worried when I started at the RAMS and Oelwein Center that it would be too challenging. However, both my math and science instructors were awesome. They went out of their way to make things enjoyable and I learned so much. I have never felt more supported and encouraged to continue pursuing my goal of becoming a nurse," she expressed.
Friendly and helpful staff, convenience and location, and ease of taking classes as an adult learner helped Katie overcome any academic challenges.
"I chose Northeast Iowa Community College because every staff member I have come in contact with, from the beginning to today, has been extremely helpful and kind. I have felt so welcomed and encouraged. After I am done with nursing school, I will be qualified and confident to provide the best patient care and to truly connect with every patient," Katie said.
To prepare for her Nursing program at NICC, she worked as a Certified Nurse Aide (CAN) at Grandview Healthcare Center in Oelwein.
The need for skilled nurses is growing in our region and demand is predicted to grow as many nurses near retirement. Hospitals, clinics and medical offices need trained graduates to fill current and projected employment needs. Northeast Iowa Community College is a leader in healthcare education, and its nursing programs are among the best in the state of Iowa.
In 2019, the National League for Nursing Commission for Nursing Education Accreditation (NLN CNEA) awarded full six-year accreditation to the College's one-year Practical Nursing and two-year Associate Degree Nursing programs. The national accreditation for the two programs is currently a first among the state's 15 community colleges.
For more information, visit nicc.edu/nursing.
---