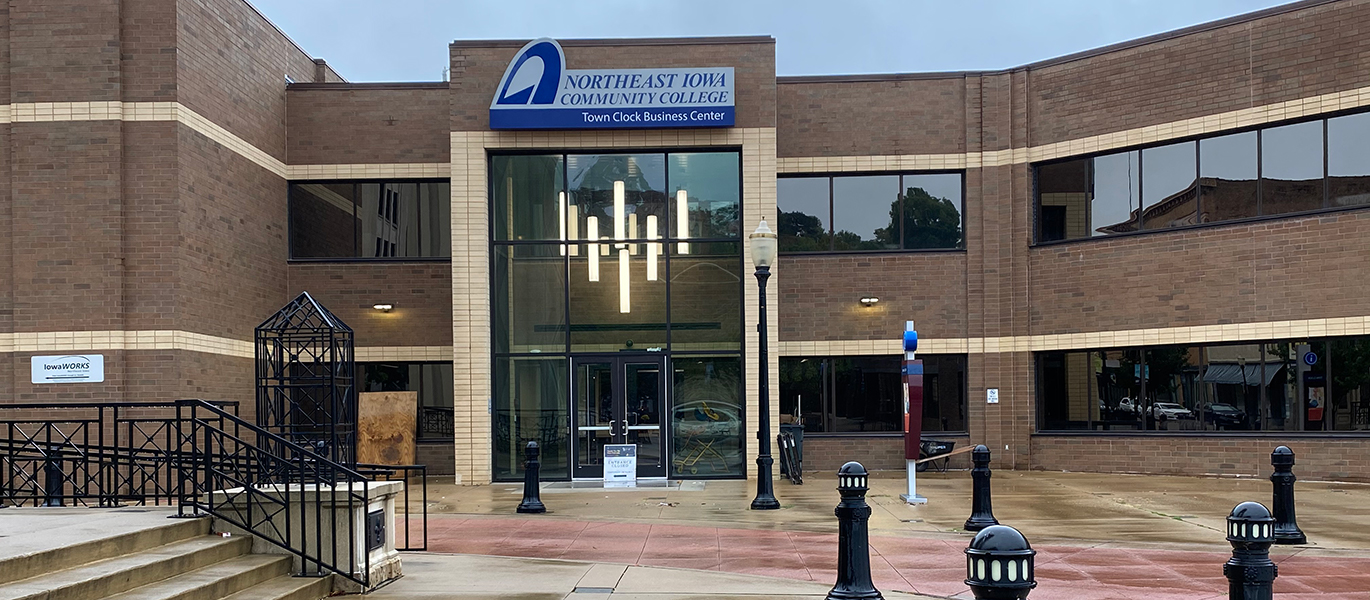 Northeast Iowa Community College completes renovations on Town Clock Business Center in Dubuque
Thursday, November 5, 2020
The construction was financed with funds from the $39 million bond levy renewal, passed by district voters in September 2018.
DUBUQUE—Northeast Iowa Community College has completed extensive renovations to its Town Clock Business Center in Dubuque, the first major construction to be funded by the 2018 bond levy passed by district voters.
The $1.63M project included three phases, starting with remodeling of restrooms in the lower and upper levels of the facility, followed by renovation of the restrooms, classroom and kitchenette areas on the main floor in the second phase. An improved entrance to the building, as well as upgrades and technology updates to the conference meeting rooms on the main floor, concluded the project this fall.
"We are excited to have a true business center now at the newly renovated NICC Town Clock Business Center. From the moment visitors walk in the front door, they will experience a modern, state-of-the-art facility. We have updated our technology in classrooms for a better user experience and expanded our virtual meeting capabilities. NICC also added a new catering kitchen to host community and business meetings and events, and our new business lounge gives visitors a place to "do business" while using our building. We look forward to welcoming businesses and community partners back to our center," stated Amy Green, director of program sales, contract training, and outreach services for NICC Business and Community Solutions.
Planning for the Town Clock Business Center renovation focused on creating spaces that would improve event services, according to Rhonda Seibert, NICC associate vice president of operations.
"In a collaborative effort led by Straka Johnson Architects, center staff identified areas of need, which included updated technology in the conference rooms and enhanced hospitality areas. An assessment of building infrastructure needs were addressed that included restroom updates and the creation of a vestibule to improve energy efficiency. We began the renovations in January and completed the project in September," Seibert explained.
Straka Johnson Architects, PC., of Dubuque, designed the renovation and Norm Racicot served as owner's representative for the College. The prime contractor was Sheets Design Build LC and subcontractors included Hawkeye Electric, Advantage Sheet Metal Inc. and Willenborg Plumbing and Heating, of Dubuque; Traco Fire Protection LLC of Milan, Ill.; Commercial Flooring Co. and Floor Show Commercial, of Dubuque; ACS Construction of Donahue; Welborn Painting and Drywall, American Sheetrocking, Dubuqueland Door Co, Zephyr Aluminum and Giese Roofing, of Dubuque. Suppliers are Beyer Cabinets LTD of West Salem, Wis., and Design Build Structures, LLC of Peosta.
The construction was financed with funds from the $39 million bond levy renewal, passed by district voters in September 2018.