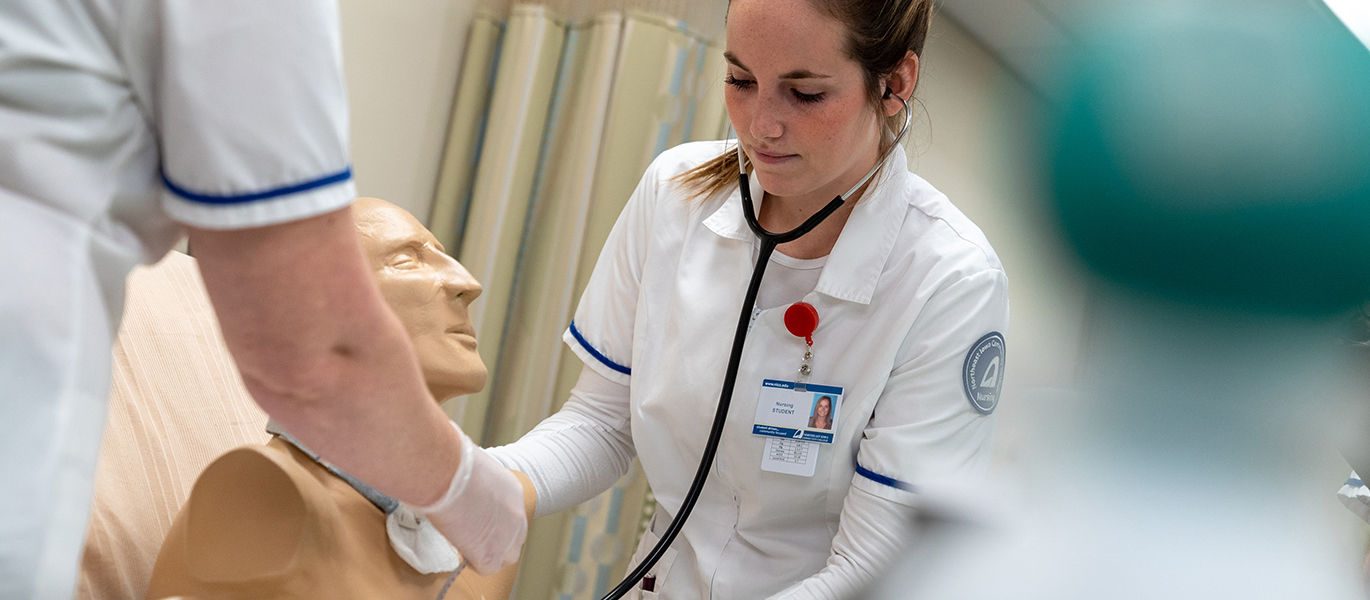 Healthcare Professionals are Always in Demand.
The need for skilled nurses and healthcare professionals continues to grow in northeast Iowa in nearly every area and specialization.
Northeast Iowa Community College (NICC) is a leader in healthcare education. The College's nursing and allied health programs are among the best in the state of Iowa and train hundreds of students each year for professional, in-demand employment.
In fact, many future nurses earn their Certified Nurse Aide (CNA) credential through NICC as a prerequisite for entrance into the nursing program.
"As a high school student I earned my CNA and it strengthened my decision to become a nurse," said Ashley Jackson. "I decided that Northeast Iowa Community College's nursing program was the best for me because throughout high school I had already earned college credits from NICC. I also wanted to stay close to home. I plan to earn a Bachelor of Science in Nursing (BSN) and work in a hospital as a pediatric or Emergency Room nurse."
The nursing programs at Northeast Iowa Community College are recognized for their academic rigor, clinical requirements for graduation and career preparation. In 2019, the National League for Nursing Commission for Nursing Education Accreditation (NLN CNEA) awarded full six-year accreditation to the College's one-year Practical Nursing and two-year Associate Degree Nursing programs. The national accreditation for the two programs is currently a first among the state's 15 community colleges.
The nursing programs encourage students to advance in their knowledge and skills. After completing the Practical Nursing program, graduates have the option to earn an Associate of Degree Nursing at the College, a Bachelor of Science in Nursing at a four-year college or university, and continue to enhance their skills as their career evolves.
The need for skilled nurses and healthcare professionals continues to grow in northeast Iowa in nearly every area and specialization. Fortunately, new sources of funding are helping students meet workforce needs. Financial support through the Future Ready Iowa Last-Dollar Scholarship fund is training a new generation of professionals for in-demand healthcare positions. One scholarship recipient, Kiley Campbell, received this state funding to complete the Respiratory Care program.
"The funding helped so much with relocating expenses and extra help paying for college," Kiley said, who was hired immediately after graduation. "Community colleges that offer two-year healthcare programs, like NICC does, are very important – especially for students who may have families and time commitments. I always wanted to work in healthcare, but didn't want to be in college for four years."
Now a respiratory therapist for The University of Iowa Hospitals & Clinics in Iowa City, Kiley's skills are needed in a variety of departments each day.
"I float between different units in a typical shift, such as transport, the emergency room and traumas, and to be an extra hand on the floor. The Respiratory Care program at NICC really prepared me as a student, especially in my clinical rotations. I had experience in the Intensive Care Unit, the ER and other capacities as a student," she said.
Train for your future healthcare career at Northeast Iowa Community College and be in-demand in northeast Iowa! Visit www.nicc.edu/healthsciences.
---