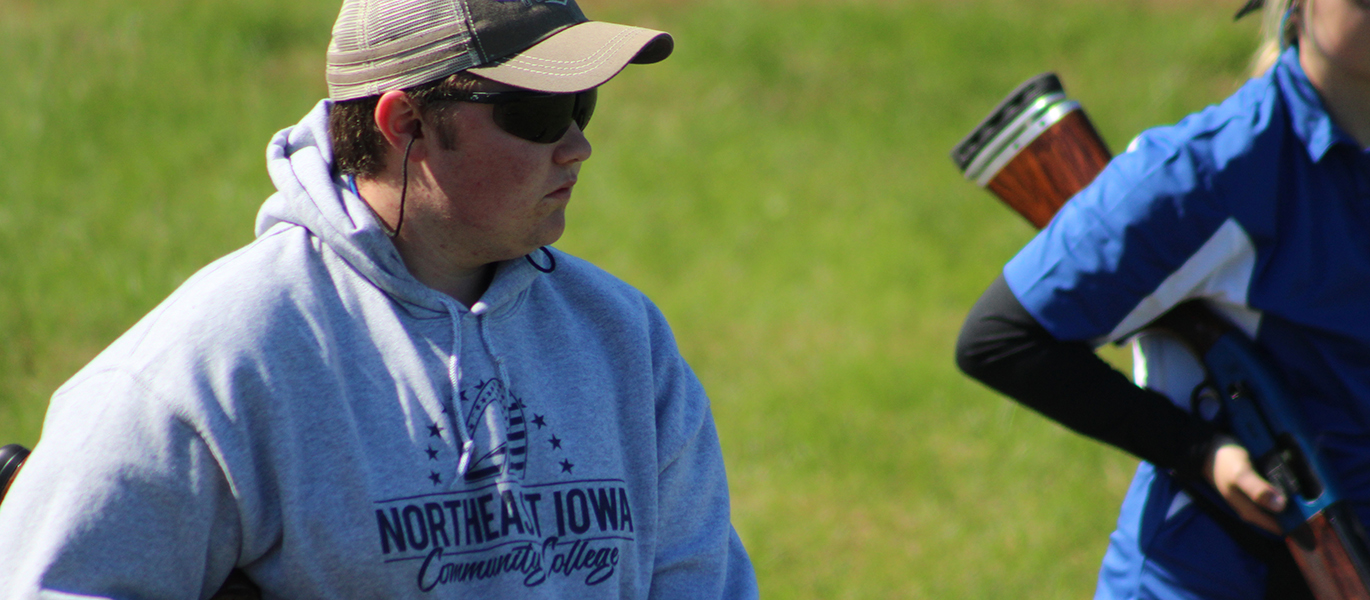 NICC Cougar Sports Shooting competes at 2022 Collegiate Central Midwest Conference Championships
Wednesday, October 19, 2022
Twenty-eight female athletes and 116 male athletes competed in the event.
SPARTA, Ill.—Northeast Iowa Community College Cougar Sports Shooting competed at the Collegiate Central Midwest Conference Championships Oct. 16 for the first time in team history, with individual athletes putting up impressive numbers in a large field of 15 colleges and universities.
Representing the only community college to compete in the regional championships, NICC athletes Alex Digman tied for 9th overall with a score of 98, and Hailey Elsbernd tied for 15th overall with a 90. Twenty-eight female athletes and 116 male athletes competed in the event.
NICC student athletes and Male Individual scores, also included Zachary Gronwoldt, Ricebille, 97 and tied for 14th place; Paul Hanni, Cresco, 96, and Tracer Tollefsrud, Canton, Minn., 96, both tied for 22nd; Emmit Stemper, Decorah, 93 and tied for 44th; Jackson Rollins, Decorah, 85 and tied for 83rd place; Alex Zweibohmer, Decorah, 80 and tied for 99th; Kaden Leliefeld, Decorah, 77 and tied for 103rd and Nicholas Saeugling, La Motte, 58, tied for 113th. NICC Female Individual athlete Magen Brenke, Holy Cross, scored an 85 and tied for 21st.
"Couldn't ask for better weather, it was the perfect day for trap shooting and we really took advantage of that," said athlete Tracer Tollefsrud.
"It was a perfect day for shooting!" added Hailey Elsbernd. "Everyone performed well and it's a very nice sports complex."
"This was NICC Sports Shooting Team's first time competing at the Central Midwest Conference Championships. Even though our team was the only community college at this regional event, our student athletes put up some excellent scores. This event helped bond our team closer and gave us more experience heading into our next competition, the 2022 Iowa Collegiate Clay Target Championships," said Anthony Sisneros, head coach.
Other colleges and universities competing included Concordia University Wisconsin SCTP, Connors State College, Hillsdale College, Mississippi State University Shooting Sports Club, Missouri S&T Trap and Skeet, Mizzou Club Shotgun, Oklahoma Panhandle State Shooting Sports, Sharpshooters at Truman State University, SIU-E trap and Skeet team, Southern Arkansas University Trap Shooting Team, University of Arkansas Cossatot, University of Arkansas Shotgun Sports, University of Iowa Shooting Sports Club, University of Kentucky Clay Target Team and UT Southern Clay Target.
The Iowa Collegiate Clay Target Championships will be hosted at the New Pioneer Clay Target Center in Waukee, Iowa, on Nov. 12.
For more information about the Sports Shooting team at NICC, visit www.nicc.edu/sportsshooting.