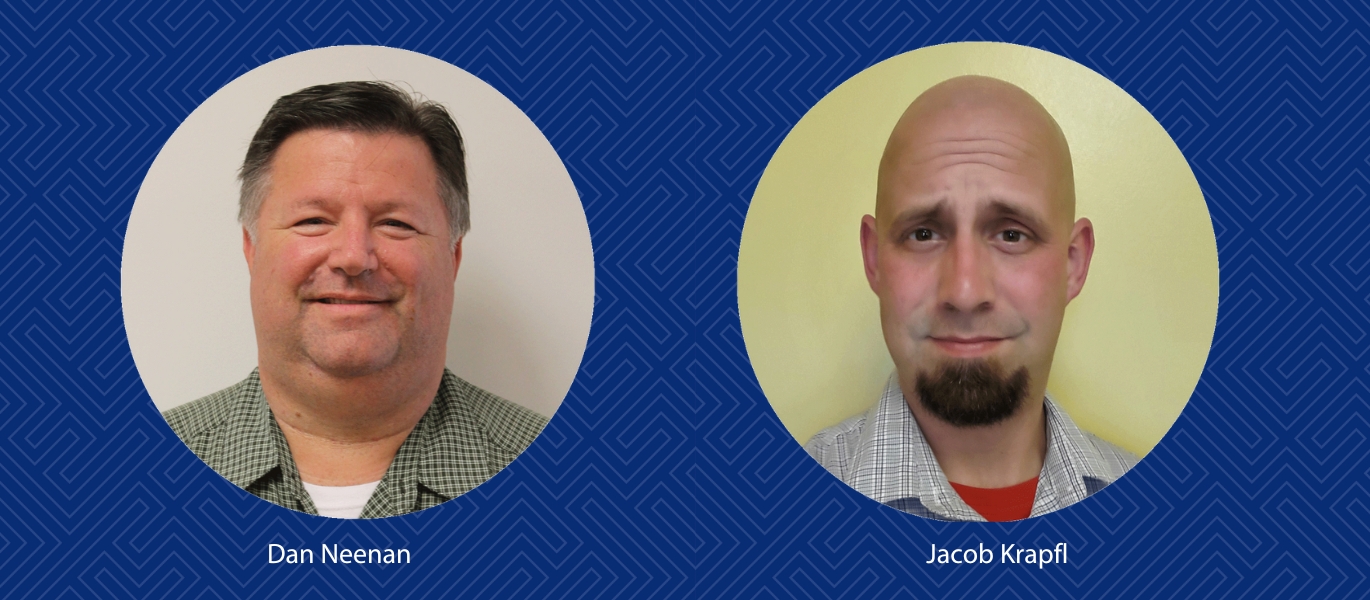 Northeast Iowa Community College staff and faculty members receive statewide Community Colleges for Iowa honors
Wednesday, November 8, 2023
Krapfl and Neenan will be formally recognized at the Community Colleges for Iowa Convention and Tradeshow on Nov. 29 in Des Moines.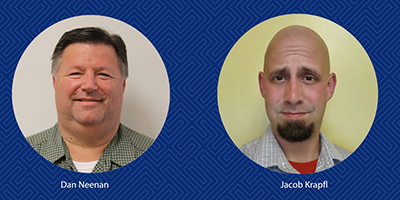 NORTHEAST IOWA—The state's Community Colleges for Iowa organization has honored a staff and faculty member at Northeast Iowa Community College this year for their contributions to higher education, outstanding leadership and service.
Jacob Krapfl, NICC communications faculty, received the Outstanding Faculty Award and Dan Neenan, director of the National Education Center for Agricultural Safety (NECAS) at the NICC Peosta campus, was honored with the Outstanding Staff Award.
"We are proud of Jake and Dan for their outstanding service to Northeast Iowa Community College. Jake has worked extensively with assessment initiatives for NICC, and Dan's leadership with NECAS enhances the safety of communities throughout the US and Canada. Their ongoing work makes a lasting impact on the success of others," stated David Dahms, NICC acting president.
Since joining NICC as communications faculty in 2011, Krapfl has distinguished himself as an instructor, student advocate and colleague. He served as a sergeant in the United States Army 82nd Airborne Division and initiated a student veterans' group upon joining NICC. Krapfl is a leader in the College's assessment initiatives and has provided training to faculty and administration on effective assessment. In addition, he has represented the College on accreditation site visits and has served as an editor for past Higher Learning Commission (HLC) porfolios. A 2008 graduate of NICC, he was inducted into the NICC Alumni Hall of Fame in 2010, an honor bestowed on those who have excelled in personal and professional endeavors beyond graduation.
Neenan has served as NECAS director since 2002. Under his leadership, NECAS manages and provides safety training and rescue programming aimed at preventing illnesses, injuries and deaths among farmers and ranchers, agricultural and horticultural workers, their families and their employees. NECAS training is credited with saving 35 lives to date. In addition to providing training locally, nationally and internationally, Neenan coordinates national health and safety awareness and advocacy programming, including National Grain Bin Safety Week and National Farm Safety and Health Week.
Krapfl and Neenan will be formally recognized at the Community Colleges for Iowa Convention and Tradeshow on Nov. 29 in Des Moines.
Community Colleges for Iowa advocates with one voice for accessible excellence in education. It is a nonprofit, volunteer membership association and the primary advocate for Iowa's 15 community colleges. The organization provides leadership on issues affecting the colleges and represent the collective needs, vision and values of the colleges to state and federal policymakers. For more information visit ccforiowa.org.
---