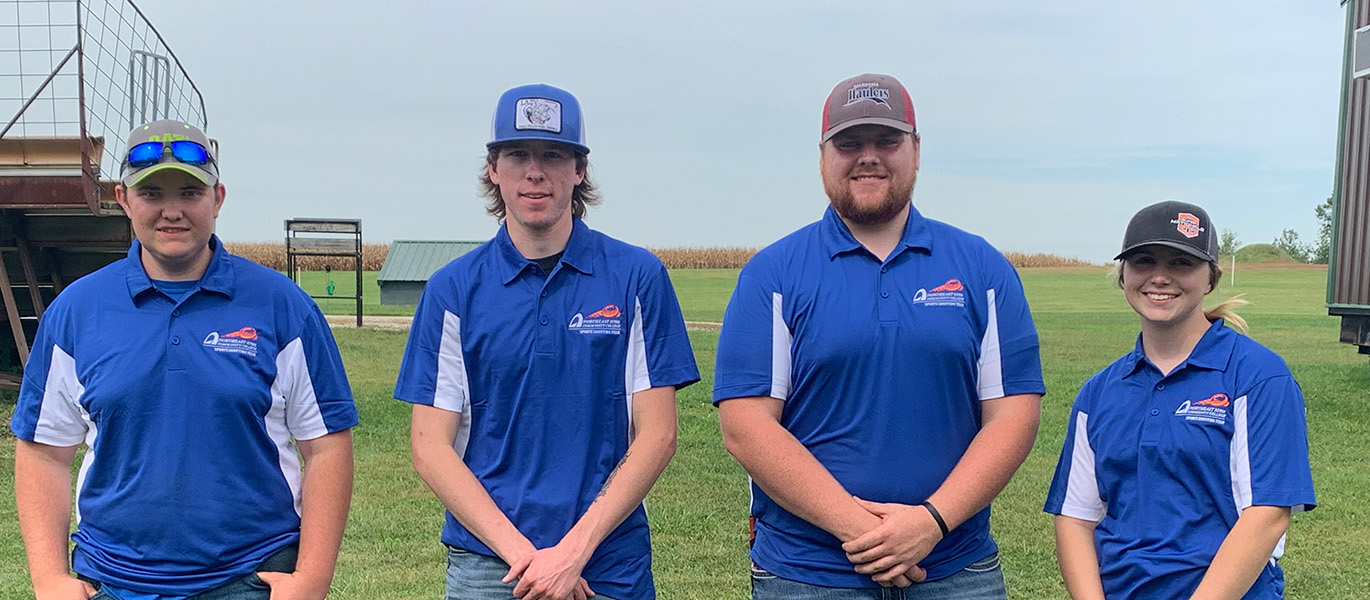 NICC Sports Shooting team wins season opener against Indian Hills
Monday, September 19, 2022
JACKSON JUNCTION, Iowa—The Northeast Iowa Community College Sports Shooting team Cougars scored a historic win in the season opener against Indian Hills Community College, defeating the Warriors, 467-452.
The teams faced off to begin the 2022 season on Saturday, Sept. 17, at Turkey Valley Trap Range in Jackson Junction. The Cougars defeated Indian Hills for the first time in college history and also scored the top three male individual finishes of the day.
NICC student athletes competing in the event, and their scores, included Austin Snell, of Decorah, with the top competition score of 97; Paul Hanni, Cresco, 95; Emmit Stemper, Decorah, 94; Jackson Rollins, Decorah, 92; Tracer Tollefsrud, Canton, Minn., 89; Noah Hageman, Decorah, 88; Alex Zweibohmer, Decorah, 85; Camron Kraus, Spring Grove, Minn., 84; Zachary Gronwoldt, Riceville, 83; Isaiah Wagner, Clermont, 81; Hailey Elsbernd, Fort Atkinson, 78; Zach Schroeder, Elgin, 74; Magen Brenke, Holy Cross, 73; Kaden Leliefeld, Decorah, 70; Sam Clausen, Johnston, 68; and Nick Gibbs, Earlville, 67.
"The day started off looking little iffy, with the rain, bugs and wind. However, it turned out to be a great day for starting off the competitive season," stated NICC athlete Tracer Tollefsrud.
"Great way to start the season," added Alex Zweibohmer.
The NICC team is off to an impressive start, says Head Coach Anthony Sisneros. "What an awesome start to our season, beating Indian Hills Community College for the first in team history and the first competition of our new season. Our student athletes battled through tough wind conditions and other elements to come away with the victory. We now need to take this momentum into our next competition against Hawkeye Community College," said Sisneros.
NICC and Hawkeye Community College will meet on Saturday, Sept. 24, at Waterloo Izaak Walton in Waterloo.
For more information about the Sports Shooting team at NICC, visit www.nicc.edu/sportsshooting.