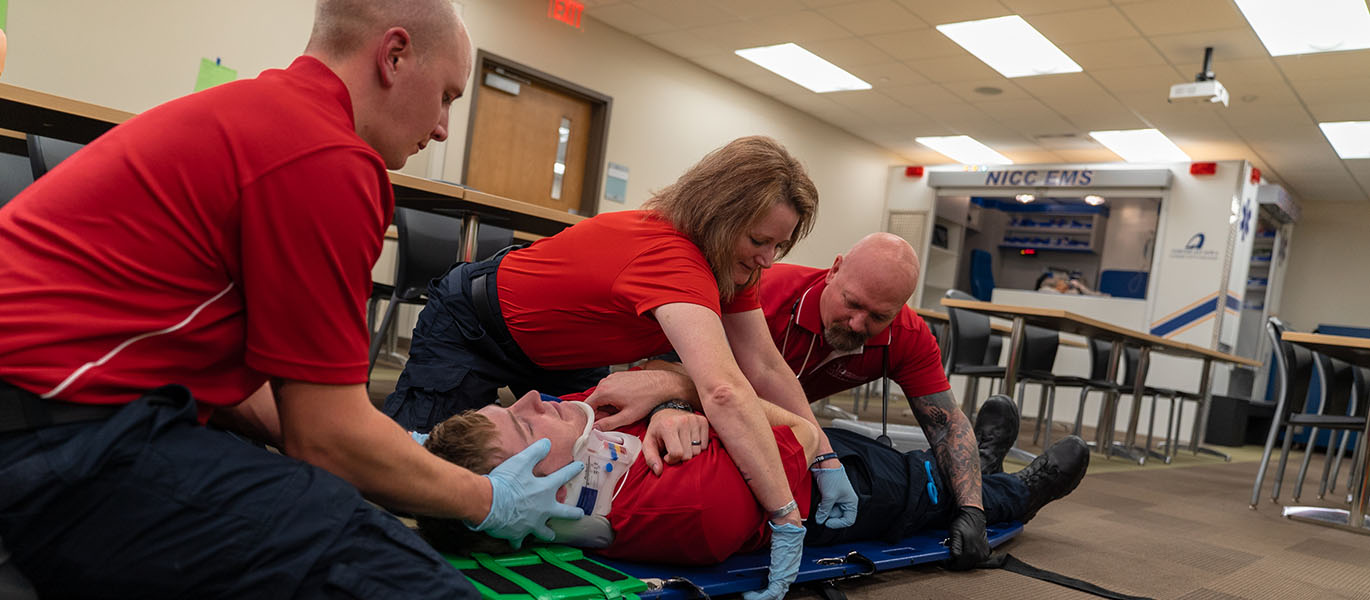 Local fire and rescue departments working with NICC to meet EMT and Paramedic hiring needs
Thursday, December 1, 2022
The need for more trained EMS personnel to meet increasing demand in northeast Iowa communities, like Dubuque, follows a similar trend throughout the state.
DUBUQUE, Iowa–Emergency Medical Services (EMS) agencies, and local fire and ambulance departments in northeast Iowa are working together with Northeast Iowa Community College to address an ongoing workforce shortage of certified Emergency Medical Technician (EMT) and Paramedic professionals.
The need for more trained EMS personnel to meet increasing demand in northeast Iowa communities, like Dubuque, follows a similar trend throughout the state. The Dubuque Fire Department, for example, has seen a gradual decrease in the number of new-hire applications over the last 10-15 years, according to Sam Janecke, EMS supervisor.
"This decline in applications has been on par with our peers in Iowa and across the region," Janecke said, because of the pandemic and a fewer number of paramedic students completing required training for employment in the field. "Increasing service demand in our community expanded our hiring and recruitment efforts. In the most recent application process, the requirement to start at the Dubuque Fire Department has shifted from Paramedic certification to EMT certification and then two years are allowed for acquiring the Paramedic certification."
Northeast Iowa Community College partners with local EMS services to deliver EMS training to help meet hiring needs. To meet the demand for trained personnel in the Dubuque area and in surrounding rural communities, NICC introduced a HyFlex EMT training model district-wide. EMT students attend course lectures online using Zoom and participate in lab sessions in-person. This approach helps address EMT workforce needs without placing the burden on one EMS service to meet minimum class enrollment requirements.
"Agencies in the more rural parts of our district have members who are interested in taking our EMT course, but are unable to get the minimum number of students to run a course at their station. The HyFlex EMT option has allowed neighboring departments to pull their members together and host an EMT class in their area. Students can attend lectures online and then all meet face-to-face in a central location to complete their labs and hands-on skill practice," said Jesse Coulson, EMS program developer for NICC Business and Community Solutions.
The College will also roll out a new EMT course for several Dubuque high schools in spring 2023 to introduce students to the EMS field, according to Coulson.
"Offering the EMT course in the high schools can inspire young people about a career in EMS. Most people do not know the pathway into EMS, and we are informing students of career possibilities they may have never known," Coulson said. There will be a limited number of seats for this first course, Coulson added.
The national scope of EMT practice is also expanding nationwide. NICC has invested in stocked "jump bags" for EMT students to manage their own supplies during a course, new manikins for real-world training scenarios, injection simulation props, nebulized medication training equipment, Zoll AutoPulse Resuscitation Systems that provide automated compressions to victims of sudden cardiac arrest and other equipment for instructors and students.
Janecke believes NICC is well positioned to deliver the most updated training curriculum needed for all of its EMS courses and programs.

"Paramedic and EMT initial education classes offered by NICC are the perfect avenue for individuals interested in pursuing a career path with the Dubuque Fire Department. Through the EMT course, students have the opportunity to complete ride-along shifts with the fire department and experience firsthand what the job entails. This career offers an opportunity to be a part of a team whose focus and goal is the service of the community in Dubuque. The camaraderie experienced is unlike most other professions," Janecke said.
Students enrolled in an EMT course through NICC develop their skills in pre-hospital assessment and care for patients of all ages with a variety of medical conditions and traumatic injuries. Areas of study include an introduction to Emergency Medical Services, roles and responsibilities of EMTs, anatomy and physiology, medical emergencies, trauma, special considerations for working in the pre-hospital setting and providing patient transportation.
Students enrolled in the Paramedic program learn advanced life support skills and work with highly trained individuals in their clinical and field experiences to learn how to provide quality emergency care to critically ill and injured individuals.
Visit www.nicc.edu/emt and www.nicc.edu/paramedic for more information.
---