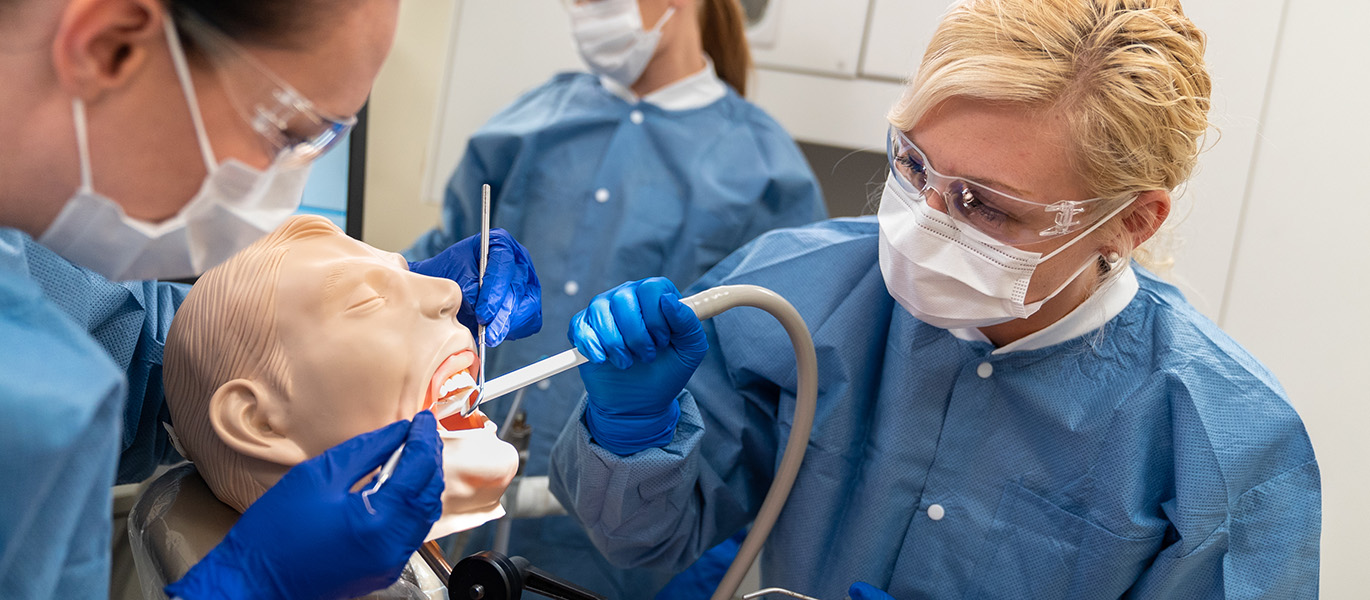 Northeast Iowa Community College on-campus dental clinic offers students experiential learning opportunities
NICC Dental Assisting faculty and students celebrate Dental Assistants Recognition Week, March 5-11.
PEOSTA, Iowa—The use of advanced simulation labs to teach healthcare program students at Northeast Iowa Community College has long been integrated into learning and career preparation. Still, the most valuable learning experiences educators can provide students are direct patient care opportunities as part of their program.
That's one of the most important contributions of the NICC Dental Clinic at the Peosta campus. Dental Assisting students learn patient intake and communication, healthcare protocols and how to help perform comprehensive dental examinations, radiographs, cleanings and basic fillings for real patients under the guidance of instructors, volunteer dentists and dental hygienists.
"Fifteen dentists and 10 hygienists volunteer in our on-campus clinic for local community members. Our students gain experience working in the clinic with a practicing dental professional and patients, while providing basic dental services for individuals who do not have access to regular dental care. For many of the patients who come to NICC Dental Clinic, we are the only dental home they have," said Dawn Klostermann, NICC Dental Assisting program director and instructor.
Dental Assisting students, such as Xochitl Vega, find tremendous real-world training value through these clinic experiences. Vega started at NICC as a Nursing student, then enrolled in the Dental Assisting program instead because of the career's stable first-shift working hours and opportunities to care for patients.
"Talking to real patients in the clinic allows time to develop good rapport with them, and I get to know patients as people and their dental health needs," Vega said, who will graduate from the program in June. "Training with manikins is good, but it's when you sit and really listen to your patient that you learn more. We need to have a listening ear for them."
Fellow Dental Assisting student Samantha Schuster believes the clinic on campus provides a training advantage for her future career and job search, as well as providing a foundation for her externship at professional dental offices in the community later in the program.
"One of my favorite parts of the Dental Assisting program is working in the clinic with different people and dentists, hygienists and dental assistants from our community. It's very hands-on," Schuster said.
Klostermann expressed that the externship component – students completing clinical rotations at dental offices in the Dubuque area – is the culmination of students' education. "When students begin the externship at offices, they learn even more hands-on skills that enhance their entry-level abilities upon graduation. Our students are trained in infection control, how to safely expose dental x-rays and how to assist for dental procedures with professionals," she said.
NICC Dental Assisting faculty and students celebrate Dental Assistants Recognition Week, March 5-11. The program at NICC has two full-time faculty who teach in the classroom, lab and clinic, and four clinical instructors who teach hands-on skills necessary for effective dental assistants. Program faculty have nearly 170 years of combined professional and educator experience.
Graduates have achieved 100 percent job placement in dental offices for the past five years. Classroom and lab work teach students proper general chairside skills, radiographic and laboratory techniques, and effective oral/written communication skills. Through the program's clinical rotations in local dental offices, students gain experience working with diverse populations in healthcare. To learn more about the program, visit www.nicc.edu/dentalassisting.
---