Military, Veterans and Families
Northeast Iowa Community College, a CHAMPS Home Base Iowa School, has been recognized as a Military Friendly® School for 2023-24 and has held this distinction for several years. Additionally, the College has been awarded the Military Spouse Friendly® Schools award for creating sustainable and meaningful education paths for Military Spouses.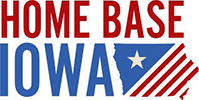 Student veterans at NICC work to help each other with not only class work but also in dealing with the day to day changes that veterans face when going from active duty to civilian life.
Students who have served in the military, or are the spouse or dependent of a veteran, may be eligible for veteran's education benefits while enrolled in an approved program of study at NICC. Each campus has a VA certifying official who assists students with the application process and serves as a liaison with the VA.
To receive VA benefits, students must:
Be eligible for one of the benefit programs from the Department of Veterans Affairs;
Pursue an eligible program of study and enroll in applicable courses;
Maintain satisfactory academic progress (be in good academic standing).
You are advised to apply for veteran benefits when applying for admission to NICC. Apply for Veteran Education Benefits on the Veterans Affairs site. Refer to the veterans enrollment checklist and military educational benefits webinar as guides to assist you. Complete the veterans worksheet and return it to your respective campus VA certifying official. The initial application process can take a significant amount of time, so students should start the process as early as possible.
For transfer students who previously attended another institution and received VA education benefits, VA Form 1995 must be completed and submitted to the VA certifying official.
For an overview of the full enrollment process for veterans and military students, view the webinar.
Military Spouse/Dependent Scholarship
Northeast Iowa Community College (NICC) offers five $1,000 scholarships to empower military spouses and children to pursue and complete their degree. This scholarship covers tuition for the current or surviving spouse/child of a military-affiliated individual or veteran.
Scholarship Details:
Five $1,000 Scholarships available to new and current students

For the current or surviving spouse/child of military-affiliated individual or veteran
Student must be enrolled in six credit hours for two semesters ($500 awarded each semester)
Submit the online NICC Scholarship Application
You can also learn more via the Scholarship for Military Spouses and Dependents webinar.
Military and Veterans Club (MVAC)
The Military and Veterans Club (MAVC) is a social and educational organization for active duty, veteran, and dependent students. This student club supports military-affiliated students by providing resources, support and advocacy needed to succeed in education. Regular networking opportunities and social functions are available throughout the academic year.
Join NICC military students like you to help address any challenges you may face as you transition to college, learn more about NICC and community resources, and connect with others who can assist you in navigating college life.
Military and Veteran Benefits Accepted at NICC
Click on the applicable benefit option below, and the section will expand to display more information. Iowa National Guard members may also be eligible for the tuition assistance program. Find out more about VA Education Payment Rates.
The Montgomery GI Bill® (MGIB) has different eligibility requirements based on your active duty service. The benefits available under each category may vary depending on your situation and length of active service. If you are separated from service, you may be an eligible veteran if you:
Entered active duty for the first time after June 30, 1985
Received a high school diploma or equivalent before the end of your first obligated period of service
Received an honorable discharge
Continuously served for three years, or two years if that is what you first enlisted for, or two years if you have an obligation to serve four years in the Selected Reserve AND entered Selective Reserve within a year of leaving active duty.
Eligible service members may receive up to 36 months of education benefits. The monthly benefit paid to you is based on the type of training you take, length of your service, your category, any college fund eligibility and if you contributed to the $600 buy-up program. You usually have 10 years to use your MGIB benefits.
The Veterans Readiness and Employment (VR&E) program's mission is to help veterans with service-connected disabilities to prepare for, find and keep suitable jobs. To receive an evaluation for VR&E services, a veteran must:
Have received, or will receive, a discharge that is other than dishonorable
Have a service-connected disability rating of at least 20 percent
Submit a completed application for VR&E services
Benefits may include payment of tuition, fees, books, supplies and a monthly subsistence allowance. The basic period of eligibility in which VR&E services may be used is 12 years from the latter of the following:
Date of separation from active military service or
Date the veteran was first notified by VA or a service-connected disability rating
You are required to meet with a VA Voc-Rehab Counselor prior to receiving benefits at NICC. Further information can be obtained from the College's Military and Veteran Services Coordinator Office.
Veterans Educational Assistance Program (VEAP) is available if you elected to make contributions from your military pay to participate in this education benefit program. The government matches your contributions on a 2-for-1 basis. To qualify, you must have:
Entered service for the first time between Jan. 1, 1977, and June 30, 1985
Opened a contribution account before April 1, 1987
Voluntarily contributed from $25 to $2,700
Completed your first period of service and were discharged or released from service under conditions other than dishonorable
If you are currently on active duty and wish to receive VEAP benefits, you must have at least three months of contributions available.
Benefit entitlement is for one to 36 months depending on the number of monthly contributions. You have 10 years from your release from active duty to use VEAP benefits. If the entitlement is not used after the 10-year period, your portion remaining in the fund will be automatically refunded.
If you have at least 90 days of aggregate active duty service after Sept. 10, 2001 and are still on active duty, or are an honorably discharged veteran or were discharged with a service-connected disability after 30 days, you may be eligible for this VA-administered program.
Under this bill, you may receive:
Tuition and fees payment (paid directly to the school) not to exceed the tuition and fees at the most expensive state Institution of Higher Learning (IHL)
Monthly housing allowance based on the Basic Allowance for Housing (BAH) for an E-5 with dependents. Access the GI Bill® Monthly Housing Allowance (MHA) Toolkit for easy to understand messaging on new MHA change.
An annual book stipend of $1000 paid proportionately based on enrollment
The Post-9/11 GI Bill® provides up to 36 months of education benefits generally payable for 15 years following your release from active duty.
The Montgomery GI Bill® – Selected Reserve (MGIB-SR) education program provides educational benefits to actively drilling members of the Selected Reserve. This includes the Army, Navy, Air Force, Marine Corps, and Coast Guard Reserves as well as the Army National Guard and the Air National Guard. Eligibility for this program is determined by the Selected Reserve components and VA makes the payments.
You may be considered an eligible reservist or National Guard Member if:
After June 30, 1985, you signed a six-year obligation to serve in the Selected Reserve
You completed your Initial Active Duty for Training
You received your high school diploma or GED before you complete your Initial Active Duty for Training
You are in good standing in a drilling Selected Reserve unit
You will remain eligible for benefits for 14 years from the date of eligibility (usually the day you graduate AIT or Tech Training). You may use any one GI Bill® benefit for up to 36 months of full time use and may be able to combine multiple GI Bill® benefits for up to 48 months of use.
The Dependents' Educational Assistance (DEA) program offers education and training opportunities to eligible dependents of veterans who are permanently and totally disabled due to a service-related condition or dependents of veterans who died while on active duty or as a result of a service-related condition.
To be eligible, you must be the son, daughter or spouse of:
A veteran who died, or is permanently and totally disabled, as the result of a service-connected disability. The disability must arise out of active service in the Armed Forces.
A veteran who died from any cause while such service-connected disability was in existence
A service member missing in action or captured in the line of duty by a hostile force
A service member forcibly detained or interned in the line of duty by a foreign government or power
You may receive up to 45 months of education benefits. Effective Oct. 1, 2013, some DEA beneficiaries may be eligible for up to 81 months of GI Bill® benefits if they use the Survivors and Dependents Educational Assistance program in conjunction with an entitlement from other VA education programs.
Students will need to receive prior approval from an Educational Service Officer (ESO) or counselor within the Military Service prior to enrolling in classes. Once an authorization has been issued to the student, from their branch of service, a copy will need to be provided to the School Certifying Official. Please use the links below for more information on your services' tuition assistance benefits.
I would recommend NICC to others because they are caring and compassionate for their students and school. It is all-around a great school to attend and I am glad that they are so helpful and want the best for me and my education.