Health Information Technology (HIT)
The Health Information Technician (HIT) is a member of the healthcare team who ensures the quality of the medical record by verifying the completeness and accuracy and ensures proper entry into electronic health record systems. This technician uses software applications to assemble and analyze patient data for the purpose of improving patient care and monitoring costs. The HIT is a specialist in coding diagnoses and procedures using the International Classification of Diseases (ICD) and Current Procedural Terminology (CPT) utilized for healthcare reimbursement and research.
Most HITs work in hospitals, but they are also found in other settings including physician practices, long-term care, home health agencies, mental health facilities, public health centers and cancer registries. HITs possess many technical skills that assist in the delivery of health care services. This program provides the HIT with a working knowledge of anatomy and physiology, disease processes, informatics, legal and quality management principles, business and computer technology, and practical applications in coding, reimbursement, quality management, health statistics, release of information and data analysis, as well as the ability to utilize software applications that collect, store, process, retrieve and analyze health information.
Award:
Associate of Applied Science
Paying for the Program
Out-of-State Tuition & Fees: $15,504*
Program Supplies: $177
Financial Aid Info
Career Outlook
$45,940
Estimated annual salary for Health Information Technology (HIT) graduates represents median annual wage from EMSI's Analyst, Career Coach and Institutional Research data.
Potential Careers
Registered Health Information Management Technician (RHIT)
View Career Details
Submit official high school, high school equivalency and/or college transcripts to the Admissions Office of the campus you plan to attend.
Complete ACCUPLACER® reading and writing assessment and ALEKS® math assessment for course placement. Assessments may be waived based on previous college coursework or submission of valid ACT®, or SAT® test scores. Reading and writing scores are valid for three years, and math scores are valid for two years.
View the Program Admission Checklist.
Program Admission Requirements
In addition to the enrollment process outlined, applicants must achieve a minimum ACCUPLACER CLASSIC® reading score of 70 or ACCUPLACER NEXT GENERATION® reading score of 250. ACT® scores are also acceptable.
The health sciences programs have additional admission requirements including background checks, health records and training requirements. Please review these requirements for program admission.
Apply Now
Request Information
Review program courses, admissions and academic requirements.
Northeast Iowa's Health Information Technology program offers tracks in Data Management and Revenue Cycle.

The Health Information Management accreditor of Northeast Iowa Community College is the Commission on Accreditation for Health Informatics and Information Management Education (CAHIIM). The College's accreditation for associates degree in Health Information Management has been reaffirmed through 2026. All inquiries about the program's accreditation status should be directed by mail to CAHIIM, 200 East Randolph Street, Suite 5100, Chicago, IL, 60601; by phone at (312) 235-3255; or by email at info@cahiim.org.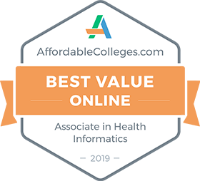 Ranked 21st for affordable online associate degrees in Health Informatics by AffordableColleges.com.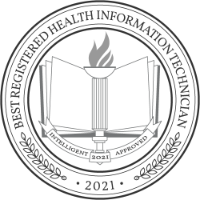 Northeast Iowa Community College's Health Information Technology program is ranked #3 in the country by Intelligent.com.
Program outcomes indicate the following:
100% graduate satisfaction rate per the 2021 gradute survey
100% employer satisfaction rate per the 2021 employer survey
78% graduate placement rate
Program Metrics
| Metric | Outcome |
| --- | --- |
| Total Graduates | 9 |
| Total Employed in Field (within 6 months of graduation) | 7 |
| Total Eligible for Employment | 9 |
| Graduation Rate | 100% |
| Graduate Placement Rate | 78% |
| Graduate Satisfaction Rate | 100% |
| Employer Satisfaction Rate | 100% |
| Retention Rate | 89% |
| Time Frame | Exam | Number of First Time Examinees | Number Of Passing Examinees | Student Pass Rate | National Pass Rate |
| --- | --- | --- | --- | --- | --- |
| 8/1/2020 to 7/31/2021 | RHIT | 11 | 8 | 73% | 70% |
HIT Program Outcomes
Apply ethical standards of practice in the delivery and use of health data for medical, legal, and regulatory processes
Utilize various software systems and information technology that abstract, classify, and process data for the purpose of medical coding, reimbursement, data analysis and research.
Apply knowledge of health information management functions to support the format and content of the health record.
Demonstrate effective written and oral communication skills for a diverse workforce.
Apply knowledge of biomedical science, disease processes, pharmacology, and medical terminology as the foundation of understanding health and disease processes.
Evaluate the financial impact on health care systems through the inappropriate and/or fraudulent use of health care delivery and reimbursement.
Examine documentation requirements for the health record and how they are utilized in various health care settings.
Licensure and Certification Disclosure
Successful completion of this program leads to a professional licensure or certification. Use this state guide to identify the states in which NICC program requirements fulfill the state guidelines for professional licensure and certification.
The Health Information Technology degree currently has transfer agreements in place with the institution(s) listed below. Students are encouraged to speak with their transfer college or university to verify that their planned courses at NICC will meet necessary requirements. Learn more about transferring from NICC.
Michele Grant, B.S.H., RHIT
Health Instructor
Email:

grantm@nicc.edu

Phone:

844.642.2338, ext. 2246

Location:

Peosta
Andrea Kane, M.S., R.H.I.A., C.C.S.
Health Information Technology Instructor
Email:

kanean@nicc.edu

Phone:

844.642.2338, ext. 1164

Location:

Calmar