Radiologic Technology
The mission of the Radiologic Technology program is to provide an ambitious didactic and clinical education that will produce compassionate, confident and professional technologists. The program will provide a variety of work settings and experiences to successfully prepare graduates to function as entry-level radiographers. A qualified graduate will be eligible to take the national registry examination, thereby becoming a certified registered radiographer.
A radiographer is a vital member of the healthcare team whose responsibilities range from obtaining diagnostic information to assisting physicians with complex procedures. Radiographers must be able to recognize emergency situations and react quickly to various patient conditions. They work in diverse settings including hospitals, clinics and physicians' offices. The Radiologic Technology program is accredited by the Joint Review Committee on Education in Radiologic Technology (JRCERT).
Award:
Associate of Applied Science
Paying for the Program
Out-of-State Tuition & Fees: $18,256*
Program Supplies: $981
Financial Aid Info
Career Outlook
$20,494 - 63,716
Estimated annual salary range for Health Sciences graduates based on EMSI. Salary range represents 10th percentile - median annual wage for related occupations ​within a 100-mile radius from the center distance between Calmar and Peosta Campuses.
View Career Details
Submit official high school, high school equivalency and/or college transcripts to the Admissions Office of the campus you plan to attend.
Complete ACCUPLACER® reading and writing assessment and ALEKS® math assessment for course placement. Assessments may be waived based on previous college coursework or submission of valid ACT®, SAT® or ALEKS® test scores. ACCUPLACER® scores are valid for three years, and ALEKS® scores are valid for two years.
View the Program Admission Checklist.
Program Admission Requirements
In addition to the college enrollment process, applicants must achieve a minimum ACCUPLACER CLASSIC® reading score of 70 or ACCUPLACER NEXT GENERATION® reading score of 250 (ACT® scores are also acceptable) and a minimum ALEKS® score of 30. The following courses must be completed with a grade of "C-" or above within five years from the date of application:
Human Anatomy and Physiology I [BIO:168]
Human Anatomy and Physiology II [BIO:173]
Basic Medical Terminology [HSC:114]
The health sciences programs have additional admission requirements including background checks, health records and training requirements. Please review these requirements for program admission.
It is highly recommended that applicants complete a radiology job shadow. The job shadow should be a total of 4-6 hours at one or more facilities. Complete the job shadow form and submit to the Radiologic Technology Program director.
Apply Now
Request Information
Academic requirements, program details and any additional admission requirements for this program can be found on the program page in the college catalog.
The program's mission, goals, student learning outcomes, accreditation information and program effectiveness data are included in the Radiography Program Effectiveness Data document. For more information regarding program effectiveness data, visit the JRCERT website at www.jcert.org.
Radiologic Technology students at Northeast Iowa Community College will experience direct patient contact during their clinical experience. Students will be scheduled at affiliated locations. Students will rotate through multiple clinical sites within a 100-mile radius of the Peosta campus. The program is a twenty-four (24) month continuous program. Students will not be permitted to finish the program early.
Licensure and Certification Disclosure
Successful completion of this program leads to a professional licensure or certification. Use this state guide to identify the states in which NICC program requirements fulfill the state guidelines for professional licensure and certification.
The Associate of Applied Science degree in Radiologic Technology currently has transfer agreements in place with the institutions listed below. Students are encouraged to speak with their transfer college or university to verify that their planned courses at NICC will meet necessary requirements. Learn more about transferring from NICC.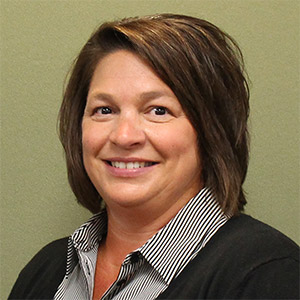 Lora Hannan, M.S., R.T. (R) (M)
Radiologic Technology Program Director
Email:

hannanl@nicc.edu

Phone:

844.642.2338, ext. 2311

Location:

Peosta
Wanda Lamey
Radiologic Technology Clinical Instructor
Email:

lameyw@nicc.edu

Phone:

844.642.2338, ext. 2272

Location:

Peosta